The Bay Islands are a part of the world's second largest barrier reef system.
The Bay Islands consists of Roatan, Utila and Guanaja, and three smaller islands lying just off the coast of Honduras. There is greatly diversified wall diving at each of the islands where the walls can start at fifteen, forty or even sixty feet. The reefs along these walls are abundant in stony corals and colorful sponges.
Endless diving opportunities are to be found including dolphin dives, walls, volcanic tunnels, shallows, whale shark encounters and lots of dazzling soft corals and sponges. You can also explore canyons, ridges and stunning walls rich in marine life.
The Bay Islands lie just off the coast of Honduras and are made up of six main islands and many cays. Spanish is the official language, although many Bay Islanders are bilingual and speak good english. The Lempira is the official currency, but US dollars are also accepted.
For non divers, the shored based attractions include (Roatan) butterfly garden, sports fishing, tropical treasure bird gardens, historic village, mangrove tour, horse riding and the Iguana farm.
For the scuba divers, the biggest attraction is the spectacular wall diving on the outer wall (which is part of the barrier reef that starts in Belize). Wall diving is not the only diving option as shallower sites are available on the leeward sites of the reef wall, along with some wrecks are also available to dive.
Bay Islands Map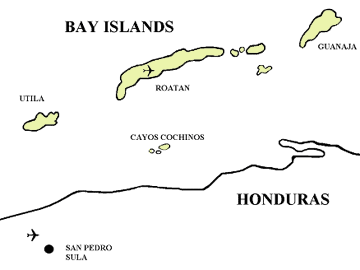 Best Diving Destinations in Bay Islands
Roatan
Click here for Roatan diving info.
Guanaja
Guanaja is the second largest of the Bay islands and its fringing reef has been declared a marine reserve. The wrecks of the Vetigo, Don Enrigue and the Ruthie C (a shrimp boat in 45 feet of water) add variety to the reef and wall diving on offer. Also worth seeing is the spawning of groupers at Caldera del Diablo in the full moons of (January and February).
Guanaja and Utila are similar but much smaller. Because of their remote location and fewer accommodations and therefor less divers in the water it can be better diving than the more developed Roatan.
Off the Island of Guanaja there is the Jado Trader, a cargo boat deliberately sunk several years ago to make a good wreck dive. The 160 ft ship rests in about 100 ft of water and is home to numerous sea creatures.
Utila
Utila is the most remote of them all and famous for its whale shark encounters.
Cayos Cochinos
Cayos Cochinos or the Hog Islands, consisting of 2 main islands and 13 small cays, are a protected marine reserve 10 miles offshore from the Honduras coast. These islands support species not seen elsewhere, colonies of purple tunicates, finger print cyphoma as well as the very rare rough black batfish and the quillfin blenny.
The two main islands of Cayos Cochinos hold such rare jewels as fingerprint tongues, wrasse blennies, sailfin blennies, painted tunicates, and richly colored encrusting sponges. While diving the area you could be joined by black tip sharks, eagle rays or turtles.
These islands can be visited on scheduled dive trips from both Roatan and Utila.
Dive Sites
Two of the Top 50 Dive Sites by Scuba Diver are actually located in the Bay Islands of Honduras, Mary's Place and Blackish Point.
Check out the below for a sampling of the many dive sites of Bay Islands.
Cara a Cara
Dive with Caribbean Reefs Sharks in Roatán.The dive site is located on arm that is perpendicular from the southern shore surrounded by walls that drop off to depths beyond the reach of divers.
Blackish Point
Coral gardens and lots of shallow caves, many with collapsed ceilings allow light down from/and access up to the reef above, resident midnight parrot fish seen here. Sandy plain is often inhabited by southern rays.
Coco's Sea Mounts
Coco's beauty is in the mix of coral and good visibility that divers always enjoy.
Mary's Place
One of the most famous dive sites off of the south side of Roatán, Mary's Place, has a lush reef with crevasses and tunnels running through it that provide great photo opportunities.
Taviana's Wall
Lots of turtles are here and this site makes a great night dive with octopus, crabs, and lobsters.
Wreck of the Aguila
This 8-year-old wreck is home to 15-20 large Groupers and a big blue Parrot Fish, as well as a big green Moray Eel that is always willing to come out and play.
Black Hills
A favorite among all divers, you can count on seeing schools of Creole Wrasse, Atlantic Spadefish, Horse-eye Jack, and Southern Sennets at this seamount, along with Scorpionfish, Toadfish and the rare Frog Fish. A resident turtle appears unafraid of divers, as do the Barracuda. Large pelagic fish can be spotted here, such as Manta  Rays, Marlin, and sharks including the big boy himself, the Whale Shark.
Duppy Waters
A coral garden begins beneath the boat at 20 feet, with walls sloping off into the blue. Eagle Rays, Stingrays, Octopus, and schools of Creole Wrasse and Blue Tang are in abundance.
When to Visit Bay Islands
The rainy season is October through February. And that can reduce underwater visibility. Otherwise, expect sunshine and temperatures in the 80s°F (26°C). Storms from the north can blow and disrupt the diving but hurricanes are uncommon here.