The Mergi Archipelago of Burma (also called Myanmar) comprises over 800 islands and cover an area of 10,000 square miles, these pristine islands which had, until January 1997, been closed to all foreigners for well over fifty years.
The Marine Park is accessible via liveaboard from Khao Lak and Phuket.
This area is totally untouched by modern development, with a rich history of maritime trade, mysticism and piracy. The Mergui Archipelago today is as it was in days gone by, bar the piracy! Due to the archipelago's virtual isolation, the islands and surrounding seas are alive with an amazing diversity of wildlife, flora and fauna.
Dive Map of the Mergui Archipelago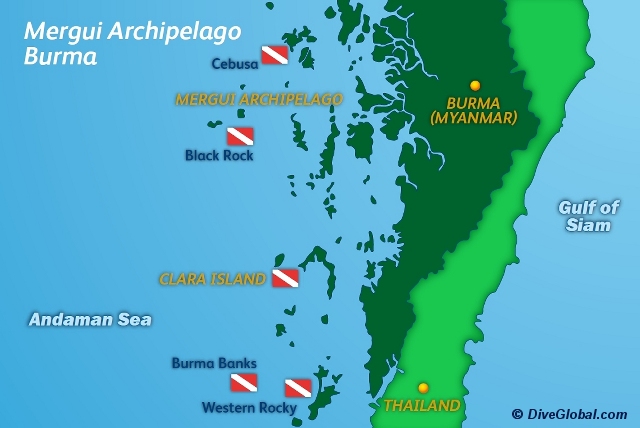 Best Diving Destinations in Burma
Only a few dive operations from Phuket (Thailand) have a permit for liveaboard operation in Burmese waters. The waters around Black Rock, Western Rock and North and South Twins are known for their sharks and soft corals. This is true open ocean diving. Currents can be erratic and swells can be rough, making this area more suitable for advanced divers.
Dive Season
Scuba diving is between the months of October and May.
Dive Sites
The Burma Banks
15-40m+
Can be very strong currents
Series of elevated undersea plateaus. Sporadic coral coverage frequented by large reef fish and pelagics.
Resident sharks include silvertips and tawny nurse sharks.
Western Rocky
5-40m
Weak to strong currents
Caves, tunnels and wall with pritine hard and soft corals.
Excellent marine life bio-diversity from small critters to whalesharks.
High Rock
5-20m
Can be very strong currents
Soft and hard corals.
Low visibility
Many small macro critters such as pipefish, seahorses, nudibranchs, shells, crabs, shrimps
Three Islets – Bishops Fancy – Three Stooges)

5-30m
Sheltered
Superb dive site with coral reefs, swimthroughs, walls and boulders.
Hard and soft corals.
Grey reef sharks and numerous small critters and invertebrates, perfect for underwater macrophotography.
North & South Twin Islands
12-28m
Sheltered
Slopes of soft and hard corals.
Huge boulders.
A fovorite destination for nudis and tiny marine creatures.
Black Rock
12-38m
Sheltered
Lonely rocky outcrop is attracting pelagics such as mantas and eagle rays.
Grey reef sharks, black-tip sharks and bull sharks, fusiliers and snappers swim around the steep slopes.
Many invertebrates.
When to Visit Burma
Best time do visit the area is between November and April till the beginning of May when the North-East monsoon sets in steadily which will bring clear days, sunshine and perfect diving conditions.