A short stop from Bonaire, Curaçao's colorful, historic, cosmopolitan Dutch city of Willemstad offers something for the non-diver, so it's poplar with diver/non-diver couples and as an extension to a Bonaire sojourn. The beauty of diving around the island of Curaçao lies in its diversity, allowing you to experience deep and shallow walls, sloping walls, deep and shallow wrecks and drift or cave diving, all within the same day.
Curaçao is the largest island within the Netherlands Antilles, and makes up the 'C' of the ABC Islands together with Aruba and Bonaire. The island of Curaçao is long and flat with bays, coves and beaches on the west side and rugged, volcanic terrain and limestone cliffs on the north eastern side.
Scuba diving in Curaçao offers a wide variety of sites which can be visited from the shore or via a quick boat ride. It's impossible to get bored with the diving opportunities in Curaçao as there are wrecks, walls, caves and coral gardens to explore.
Although it is not essential to dive through a certified operator in Curaçao , arranging a dive in Curaçao is fairly easy thanks to a number of dive shops who offer guided dives and day trips. Some dive operators even offer dive training in English and a number of other languages. If you choose to dive without assistance from an operator it is fairly easy to access the shore dives by simply renting a car and renting the necessary dive gear.
Diving Conditions
Curaçao's climate is dry, receiving only 55cm of annual rainfall which generally occurs in the months between October and February. Curaçao is lucky to be situated below the hurricane belt, and so is often unaffected by the annual hurricane season as other nearby parts of the world are. Air and water temperatures are often in the high 20s, but thanks to consistent trade winds the air temperature remains at a comfortable 26-30°C while the water temperature is a balmy 27-29°C.  Divers need not worry about renting anything thicker than a 3mm wetsuit for diving in Curaçao.
Average visibility is about 80-100ft (24-30m) and the average water temperature ranges between 78° -84°F (26-28°C). Many of the dives off Curaçao are within the Curaçao Underwater Park.
Trade winds continually blow over the island leaving one side of the island too rough to dive, but the other protected side of the island containing all of the dive sites (those that visitors generally dive). Curacao offers good wall diving, reef diving and some wreck diving.
The outstanding beach dives from protected coves on the northwestern side of the island have easy access by car.
Best Diving Destinations in Curacao
The diving in Curacao is all done on the protected side of the island, and typically most dive sites gradually drop off, but there are a few sites that do have sheer walls.
The arid climate of Curacao means that there is little island run off and hence the visibility is always above average for the diving.
Most dive sites have a shallower section above the wall to dive on, and a deeper section, down the wall, which to dive on. Soft and hard corals, along with a variety of sponges color the walls and reefs.
Typical marine life to be found includes, goat fish, grunts, trumpet fish, giant orange elephant ear sponges, lobsters, spotted drums, spotted moray, green moray and chain moray.
Curacao Dive Sites
One of Curaçao's most popular dive sites gets its name thanks to the numerous mushroom-shaped corals in the area, the renowned Mushroom Forest. Schooling Creole wrasse, moray eels and brown and blue chromis enjoy hiding beneath the mushroom shaped coral heads, while sea turtles can often be seen making their way over the sponges and corals.
Voted as one of the best wreck sites in the Caribbean, the Superior Producer came to rest on the sandy sea floor back in 1977. Advanced divers will need to descend to a depth of 30 meters to explore this wreck which has become overgrown with sponges and corals and is teeming with a variety of marine life including morays and barracuda.
The small, uninhabited island of Klein Curaçao boasts magnificent beaches, vibrant coral reefs and crystal clear turquoise waters. Klein Curaçao is reachable only by boat and takes at least 2 hours from the mainland. Many dive operators will create a day trip out of a visit to Klein Curaçao, with lunch in between the diving or snorkeling activities. The underwater landscape at Klein Curaçao boasts stunning coral formations, plenty of fish and an impressive vertical drop.
Playa Kalki to the north of Curaçao is a popular dive site generally referred to as Alice in Wonderland. This site is reachable from the shore and presents calm conditions with colorful reef fish and much more. There is a wall dive that stretches down from 18 to 30 meters at Playa Kalki, where divers will encounter plate and sheet coral as well as a variety of other coral types and formations. Creole wrasse, parrotfish, moray eels and lobsters can all be seen.
Tugboat is a very shallow dive at only 5 meters beneath the surface. Ideal for beginner scuba divers and snorkelers, this sunken vessel has been home to a variety of marine life for more than 25 years. With sponges and corals covering its entirety and offering refuge to trumpet fish, angelfish, morays and more, the Tugboat is teeming with life. Just a few minutes away is a steep wall where divers can descend further and continue exploring the wonders of this underwater space. The wall has a number of crevices where scorpion fish and lobsters may hide.
Mushroom Forest
Boulder Star coral formations can be seen rising as high as 10-15ft (3-4m) from the ocean floor.
East Point
Another top site, the vertical wall here drops from a 20ft (6m) ledge straight down to 180ft (54m). The wall is lush with coral formations of Star Coral, Brain Coral and Black Coral in deeper water.
Director's Bay
This site teems with marine life and some of the largest colonies of soft brown Sea Rod Coral seen in the Caribbean.
Curaçao Wrecks
Established in 1983, Curaçao Underwater Park stretches along the eastern end of the southwest shore from East Point to the Princess Beach Hotel. Central Curaçao Underwater Park continues from the Princess Beach Hotel to Bullen Bay while Banda Abao Underwater Park runs from the Cap St. Mary lighthouse to West Point.
Curaçao is rich in both shipwrecks and reefs.
The 61m (200ft) Superior Producer, a coastal freighter that accidentally sank in 33m (110ft) of water just outside the harbor in 1977, is the premier wreck in the area. Swept by currents, she sits upright, blanketed with orange cup corals whip corals, anemones and sponges. The ship's wheelhouse is at a depth of 25m (82ft).
The Tugboat is a popular wreck dive, especially for photographers. She lies in the 5.5m (18ft) of water near the eastern side of Caracas Bay. Upright, intact and instantly recognizable, this wreck is Curaçao's unofficial diving emblem. Just over 8m (25ft) long and small enough to be photographed. The boat is sufficiently shallow to be enjoyed by snorkelers as well. The wheelhouse is carpeted with orange cup corals while brain coral and gorgonians cloak the outer hull. The engine room portholes allow for easy penetration by ardent photographers. Parrofish, moray eels and French angelfish are all resident in the boat. On the seaward side of the wreck, a vertical and sometimes overhanging wall rich in stony corals and orange elephant ear sponges drops from 9m (30ft) to 30m (100ft) before shelving gradually deeper.
Also worth a look, the wreck of the Saba is a tug sitting in 20 feet of water and offers good snorkelling for non divers, and the wreck of the Superior Producer which stands upright, and was sunk in 1978, sits in 34 meters of water.
Dive Centers
There are plenty of highly acclaimed dive operators in Curacao who offer day trips, guided and unguided trips, equipment rental, dive training, diving refreshers and accommodation to suit every budget.
When to Visit Curacao
With no more than three degree's difference between average summer and winter air temperature and very low annual rainfall, the main factor affecting diving in Curaçao is the wind. The trade winds blow year-round, but are highest from January through April. The best dive months are June through November. Very little diving is done on Curaçao's north coast because of rough seas. However, for short periods between August and December, the water is calm enough to allow diving. Water temperatures vary from mid-70°F (23°C) in the winter to mid-80°F (29°C) in the summer.
Map of Curacao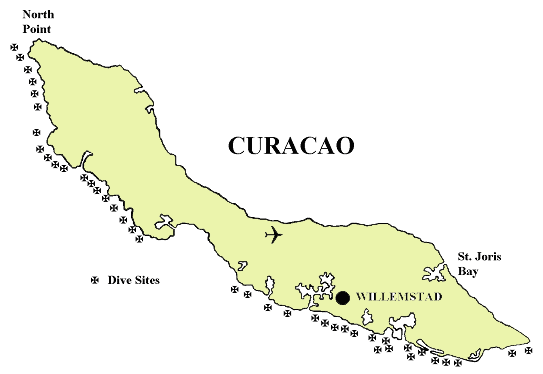 Travel Facts
The island of Curacao, situated 55kms north of venezuala, is part of the Netherland Antillies. The island is an arid desert like terrain (not the typical lush tropical island), with trade winds blowing mostly from one side of the island. The official language is English and the official currency is the Netherlands Guilder, although US dollars are excepted everywhere. The main town is Willenstad which is a modern town with a population of 165,000. A full range of restaurants are available for dining, and the seaquarium can be visited as a shoretime activity.
How to get to Curacao
The International Airport in Curaçao, known as Hato International, is well connected with European destinations such as Spain and the Netherlands as well as the USA and the islands of Aruba and Belaire. To travel around the island, it is highly recommended to rent a car, although it is also possible to travel by taxi. Dive resorts and operators will usually offer a free pick up service, and cruise ship guests will often make use of this service.