There's nothing that says 'paradise' quite like French Polynesia, a collection of 118 islands and atolls in the crystal clear waters of the South Pacific. Stretching across a vast distance of more than 2000 kilometres, the islands are famous for their long-stretching sandy beaches, some of which feature unique black and pink sand and the opportunity to stay right on the beach front in this tropical utopia. The islands are also famous for magnificent waterfalls and lush, imposing mountains.
The islands are divided into five archipelagos – Tuamotu, Society, Gambier, Austral and Marquesas – and some of the most well-known islands are favoured by the rich and famous such as Bora Bora and Tahiti. Many people can instantly connect the islands of Tahiti and Bora Bora with scenes of calm lagoons, unspoiled beaches and rustic-looking thatched bungalows that stretch over magnificent turquoise waters, however what many don't realize is that there is an incredible underwater scene also waiting to be discovered.
With coral reefs surrounding many of the French Polynesian islands, divers have an underwater playground to explore that is larger in area than Europe. With something for every diving level, the dive sites in French Polynesia are not to be missed. A number of sites are located within calm lagoons, making them ideal for those just starting out on their diving adventure. Fantastic visibility and exciting marine life all await divers in these protected lagoons, whilst the thrilling drift dives in the passes of Tuamota will provide a unique and exciting opportunity for more advanced divers.
Divers will be grateful for the top-class visibility at the dive sites, making it much easier to spot a myriad of different marine species such as manta rays, dolphins, sharks, sea turtles and even humpback whales.
One thing that international divers need to be aware of when diving in French Polynesia is that the pressure gauges make use of the Bar system rather than measuring pressure in psi. The conversion is simple to formulate as 1 Bar is equal to 14.5 psi.
Best Diving Destinations in French Polynesia
Although it is near impossible to go wrong when selecting a diving location in French Polynesia, for many the best dive sites surround the islands of Bora Bora, Tahiti, Tetiaroa, Fakarava North, Fakarava South, Rangiroa, Moorea and Tikehau.
Tahiti
The lagoon and ocean waters surrounding the island of Tahiti offer spectacular underwater attractions as well as a variety of diving sites. There are sunken shipwrecks, breathtakingly steep drop-offs covered with colored coral fans, coral gardens and much more. Of course there's an equally rich fauna.
Divers at all levels will easily find plenty to satisfy their curiosity. But Tahiti also offers the opportunity for divers to take advantage of different levels of instruction courses (CMAS, PADI and SSI…). And, there's diving for children.
Tahiti Nui is the Big Island, where all international and domestic flights arrive and depart. Tahiti Iti is the Small Island, or peninsula, less known, still very undeveloped and unspoiled. Both the big and the small islands remain little known as visitor destinations. So they're worth discovering because they still have many surprises to offer.
Tetiaroa Island
A famous site surrounding Tetiaroa Island is that of the Canyons. Located on the outskirts of the calm lagoon but offering the same impressive visibility and magnificent aquamarine waters, this site is known for its collection of colourful reef fish such as triggerfish and butterfly fish and of course, the canyons. Keeping with the site's namesake, at around 20 metres the site opens up to a maze of canyons with phenomenal swim-throughs, overhangs and crevices to be explored. Shoals of spotted eagle rays, lion fish, barracuda and humphead wrasse are all regular sightings at this site which is suitable for all diving levels.
Rangiroa Island
Rangiroa is the largest atoll in the Southern Hemisphere and the second largest in the world. It is located 350 kilometers (217 miles) northeast of Tahiti.
Rangiroa's lagoon is world famous for unsurpassed diving, offering exceptional dives to view an underwater world of manta rays, hammerhead sharks, schools of jack fish, barracudas and much more.
As the second biggest atoll in the world, Rangiroa boasts some of the best scuba diving around the Tuamota Archipelago. Dolphins, manta rays, turtles and tuna are all regular sightings in the surrounding waters, known as Wild Ocean and Peaceful Ocean for obvious reasons. These dive sites are also ideal for shark enthusiasts, with silver tip, white tip and black tip reef sharks encircling the island. Hammerheads are also prevalent in the area, especially in the rip currents that flow into the lagoons. Many divers opt for this exciting rip dive experience to catch a glimpse of these odd, menacing-looking creatures.
Moorea Island
Only a few minutes from the highly popular Tahiti, Moorea Island has a unique heart shape and some unique experiences that make it well worth a visit. Stingrays and moray eels abound in the area and there are even opportunities to hand feed lemon sharks, black tip reef sharks and white tip reef sharks. Now that's something you don't get to do every day!
Another shark infested dive site off Moorea Island is that of Tiki, so named for the small Polynesian statue that is submerged in the nearby lagoon and seems to be a focal point for many of the surrounding sharks. This site is well-known to feature large numbers of grey sharks and offers excellent visibility. Some divers have even encountered humpback whales in the area, which would be something truly spectacular to add to the dive log!
Manihi Island
Known for its cultured black pearls that bring many to the island, Manihi is also famous for a wall dive known as the Drop Off. Starting off at a mere 3 metres, the wall suddenly drops off to over 1400 metres and will feature Napolean wrasse, grey sharks and plenty of barracudas along the way. The Drop Off is not suitable for beginner divers but is truly a thrilling experience for those with the correct qualifications and experience.
Thanks to its size on a human scale with its unique diving center, this atoll has managed to preserve the privacy of an unbelievable Tuamotu fauna in an atmosphere that is friendly, attentive and personalized.
Among the numerous species of underwater life are the famous marbled rock cod that willingly show up each year after reproducing. Several factors make Manihi an ideal diving site for experienced as well as beginning divers private sites; a current in its coral reef pass that's not strong; impressive underwater settings; and a great density and variety of species.
Bora Bora
Bora Bora where nature offers a marvellous underwater world, allows for very specific dives. There are the manta rays and leopard rays that can be visited inside the lagoon. For the more adventurous and experienced, there are spine-tingling dives in the ocean, where one meets a variety of sharks-lemon, black-tipped and gray sharks.
Regardless of your diving level, you can discover in all tranquillity an amazing underwater world. Most of the land or water activities offered on Bora Bora allow non-divers to discover the magic of this unforgettable universe. And be sure not to miss one of the world's most unique sights: the manta rays in Bora Bora's lagoon all year-round.
Huahine
Huahine remains one of the least developed islands, rich in authenticity and culture. It delights as many divers with its underwater marvels as non-divers who never grow weary of discovering the island.
Spellbound by its colors and the friendliness of the people, Huahine never leaves its visitors indifferent.
Raiatea
The charm of Raiatea, the Sacred Island, and Taha'a, the Vanilla Island, reveal the authentic values of the Polynesian islands.
The two islands share the same lagoon, a special aquatic space recommended for its diversity. There are nine passes from the ocean through the coral reef into the lagoon. There's a practically unlimited number of diving sites to choose from. Those sites are found both inside and outside the coral reef.
There's something for everyone in these waters. Whether you're a beginner or experienced diver, you'll discover a cosmopolitan fauna in a changing universe as you drift dive in the reef passes. There also are coral gardens, grottos and the famous three-masted ship "Norby",which sunk in 1900.

Dive Map of Taha'a & Raiatea Islands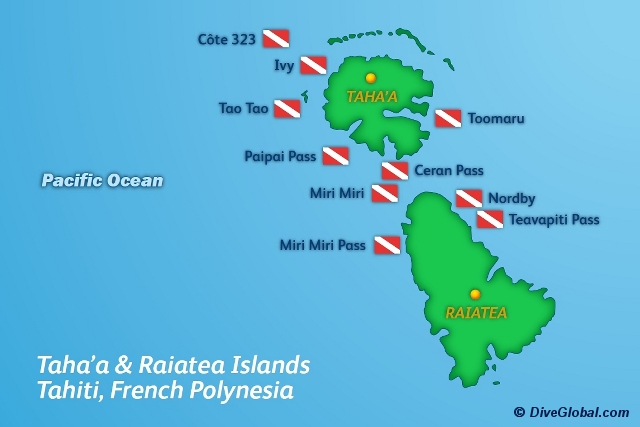 Tikehau
Tikehau is famous for its hospitality. And it is a perfect example of harmony between man and nature. For visitors, this is a complete change of scenery from back home, regardless of where that is! The beaches that circle the lagoon are extraordinary. The scenery is right out of a postcard. The fauna, both on land as well as underwater, is unique. The late French ocean explorer Jacques-Yves Cousteau described this lagoon during one of his expeditions as being the best stocked with fish of any place on this planet. That very appropriate description makes Tikehau the ideal place to go diving for experienced divers as well as beginners.
Fakarava
Fakarava also known as Havaiki Nui is one of the largest atolls in the Tuamotus. Fakarava is a place where you must not forget to dive in Polynesia. The only diving center is situated in one of the most beautiful hotels in Polynesia (the Maitai Dream Fakarava) for its local architecture and the splendor of its view. An impressive and unique experience to the contact of the rich fauna, you can observe in full details.
Rurutu
Rurutu is a very pretty small island, 30km of circumference, at about 1 hour and a half by plane from Tahiti, in the south of French Polynesia, in the archipelago of the Australs, whose higher mountain culminates at the altitude of 385m. You can observe whales between July and October. The average adult size for those whales is about 50m for about 40 tons. You will discover thousands of new feelings to tell.
Ahe
Ahe is one of the newest tourism-oriented atolls in the northwestern Tuamotu Archipelago. This unspoiled atoll was so appealing to the late world famous French sailing navigator Bernard Moitessier that he dropped anchor there and moved ashore. Ahe will definitely appeal to all nature lovers, who can become a modern day Robinson Crusoe on land and underwater explorers in the lagoon.
You will be delighted by the Tiareroa pass through the coral reef and the unspoiled diving sites, plentiful with fauna and an amazing variety of sea bed reliefs.
You can explore underwater canyons and grottos, where many sharks and schools of multi-colored fish hide. Such surprising encounters underline the unspoiled charm of this atoll.
Dive Cruises and Liveaboards
Bring your flippers when you go to the atolls in the Tuamotu Archipelago. Explore the unspoiled passes in the coral reefs of the most remote atolls unknown to tourists.
The diving sites are practically at the foot of your bed. To live a real diving dream,there's only one solution: take a cruise and let yourself be guided from Fakarava to Toau, from Aratika to Kauehi and from Raraka to Tahanea. There are so many atolls off the traditional tourist circuit and they all offer unspoiled passes and surprising encounters with a magic-like underwater world.
Getting to French Polynesia
Although the islands are dispersed over far distances in the middle of the South Pacific, arranging travel is fairly easy with 46 airports available and regular inter-island travel opportunities. Major airports are located on the most popular islands which are Bora Bora, Tahiti, Rangiroa, Raiatea and Huahine and can be reached from over 30 of the world's biggest cities. The majority of flights will land at Faa'a Airport in Tahiti, the area's largest airport, and then it is possible to fly or travel by boat to your final holiday destination. A great thing to note is that travel visas are not required for short visits to French Polynesia, making travel arrangements even more hassle-free. There are a multitude of resorts, hotels and tourist facilities on the islands to cater for your every need.
When to Visit French Polynesia
The tropical paradise that is French Polynesia boasts a welcoming climate at any time of year. The warm, long-stretching summers from June to September offer high humidity and cool evening breezes, with water temperatures remaining constant at 27°C. Underwater visibility is slightly reduced in the rainy season which runs from November to February, although this has done little to deter divers from experiencing the underwater wonders of French Polynesia.
Where to Stay in French Polynesia
French Polynesia has experienced a recent soar in popularity with scuba divers and as such there are now many operators, liveaboards and dive shops to choose from. These dive operators will provide equipment, training, knowledgeable local guides for reef dives and night dives and much more. Some companies specialise in diving opportunities that focus on one of the area's many highlights, such as shark diving, shark feeding or manta ray feeding.