Besides having vigorous volcanic activities, Java is also the most densely inhabited island in Indonesia. Krakatoa is located towards the west of Java and it has a lot of good diving spots. Divers can also explore the thriving marine and coral life of the hundreds of islands located offshore. Penietan Island and the peninsula are part of the national park of Ujung Kulon and it boasts some of the most spectacular animals of Javanese rainforest and surfing beaches. Divers can enjoy a diverse marine life in this diving spot as well as Pulau Seribu, which are tiny islands renowned as weekend destinations to visitors from Jakarta.
Dive Map of Java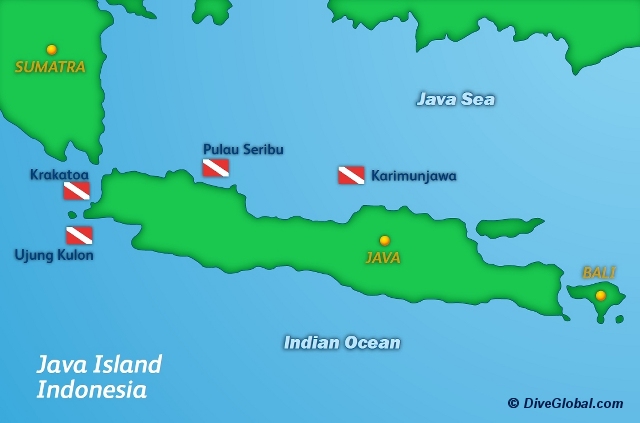 Jakarta Dive Sites
Located just two hours north of Jakarta by boat, Thousand Islands offer some great getaway dive sites. Escape the hustle and bustle of Jakarta to the serene and quiet underwater world teeming with marine life and colorful coral. You will be amazed that such beauty is so close to Jakarta.
As the name implies, there are "thousands" of sites, but here is just a sampling of our favorites.
Feisol
Make a water entry right in front of the pier at the Kul-Kul Island Resort to explore not just one wooden shipwreck, but two. These old fishing boats about 10 meters long are in good condition and are safe to dive around. Besides the boats, there are lots of coral and clown fish, goby, butterfly, angel, yellow tail, snappers, groups and pelegics. Beginners can easily make this dive at 18 meters, and currents depend on the weather conditions.
Kaliage Kecil East Point
Dive here to see the healthiest coral of all the thousands of islands. Coral and marine life thrive here because the owners of the island do not allow any boats to anchor here and for more than 20 years fishermen have not been allowed. This site is always teeming with clown fish, angel fish, goby, snappers, yellow tails and groupers. It is only a 10-minute boat ride from the Kul-Kul Resort and is suitable for beginners and experienced divers. The average depth is 5-15 meters.
Kaliage Kecil West Point
This is exactly the same as the Kaliage Kecil East Point site except it is on the west side of the island instead of the east. Same healthy, growing coral full of marine life because it is in a so-called "protected" zone enforced by the owners of the island. Easy to reach by a 10-minute boat ride from Kul-Kul Resort and suitable for beginners and experienced divers with depths of 5-15 meters.
West Kuburan China Island
Sometimes this site is chockfull of turtles, and during the squid season, you can see schools of squid. Year-round there is nice coral, tropical fish, nudibranches, turtles and squids just 10 minutes from Putri Island. Good for beginners or experienced divers with depths of 15-40 meters.