Although other areas have suffered from tourism and mass development in Thailand, "Koh Chang" has managed to survive while others suffered. It comes as quite a surprise as it is Thailand's second biggest island and Koh Chang is also the biggest of the 52 islands that comprise the "Koh Chang Marine National Park". Intact and pristine, the marine life and the natural resources of this island make it a pioneer diving destination within South-east Asia. The majority of the diving destinations are located in the southern part of the island.
Dive Map of Koh Chang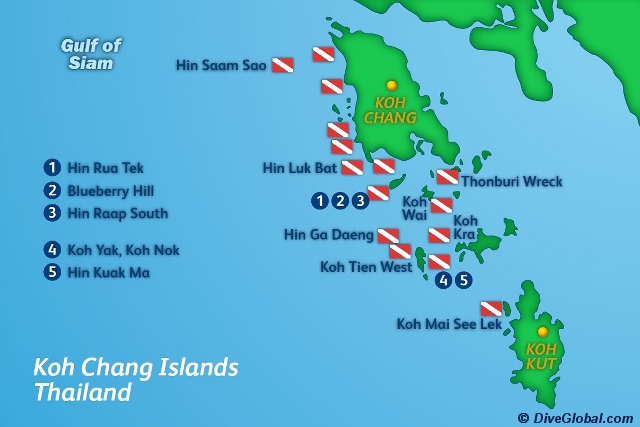 Dive Season
Year round scuba diving with best conditions being between November and May.
Mu Koh Chang Marine National Park
Mu Koh Chang Marine National Park, situated off the east coast of Thailand, is one of the country's sea borders. Like many other seaside destinations throughout Thailand, it is a popular destination for tourists. The natural beauty both above and below the water is still very well preserved.
White Sand Beach (whose name derives from the powdery white sand) and Klong Prao Beach (which is situated next to Chai Yod peninsula) boast fine sands and crystal clear waters and have thus become favorite places for swimmers and sunbathers.
Another beach on the island is that of Kai Bae; a perfect place to enjoy the classic Koh Chang sunset. There are not only tourist facilities and bungalows along this beach, but also places where mountain bikes can be hired; ideal for an eco-friendly tour around the island.
Dive Centers
There are also a couple of dive shops on the beach at Kai Bae Hut, and the other at the Klong Prao Resort. The services include diving into the wonderful underwater world, snorkeling in shallower water and of course dive training.
Hin Look Bad and Hin Rab Dive Sites
I have been diving at Hin Look Bad and Hin Rab; both sites are quite close to the island:
The wide variety of marine life of the eastern Thai coast was pleasantly surprising. There are many Christmas tree worms (Shirobranchus giganteus) and Polychaeta soft corals with numerous tiny residents of pink, blue, green and brown. Moray eels can also be found near the buoy of Hin Look Bad dive site. They feed on crustaceans, squid, and fish. One of the most spectacular features of the moray eels are the white rings around their eyes. There are also tiny fine hair pygmy gobies on the many sea whips and plectorhynchus chaetodonoides, who always swim out to greet divers. The juveniles are white with netlike brown patterns. As they age, the brown pattern gradually becomes scattered dots all over their bodies.
The beaked coralfish (chelmon rostratus) has a flat body with a long mouth, and each side of its tail fin has a black spot surrounded by a white ring; resembling a large eye to trick predators. Their favorite foods are sea worms, fish and shrimps, all of which dwell amongst the corals. Night diving here finds grooved razorfish or shrimpfish. They always swim with their head down. They also like to stay together as a group, usually near sea urchins and sea whips to protect their delicate bodies from any enemies. The banded boxer shrimp (stenopus hispidis), with it's red and white stripe along its body, always raises its claws; like a boxer moving around the ring. The banded boxer shrimp also serves algae on its body to fish who just float in for a feed, not thinking to harm the shrimp at all.
We can also find blue spotted stingrays (dasyatis kuhlii), with their blue spots and a spine in their tail, buried in the sand. Then there's the colorful Raggy scorpionfish (scorpaenopsis venosa), who lays still on sea sponges. One should be careful not to touch them because of their deadly poisonous spines.
Besides the underwater wonders, you can also indulge yourself in the island way of life. For instance, at the fishing village on Bang Bao Beach, with its busy pier. Another local attraction is the Klong Plu waterfall, which is reached on foot.
There is no doubt that Mu Koh Chang Marine National Park is rich in topside and underwater beauty. Nature has truly created a circle of life in harmony with all the islands living creatures. This is where beauty and joy meet in perfection.
Dive Sites
Hin Rap
5-15m
Moderate current
Rocky reef with hard corals such as leather coral, black coral, seawhips and Gorgonians.
Large fish including schools of batfish, triggerfish and fusiliers.
Unfortunately damaged by dynamite fishing.
Koh Chang Wreck
10-15m
Weak to moderate current
Thai warship sunk by the French navy over during the 1930's.
Black corals and small gorgonians. Various reef fishes.
Koh Wai
5-15m
Weak to moderate current
Submerged boulders with various corals including lesser star coral, braincoral, blackcoral and sea whips.
Koh Kradat
5-10m
Weak to moderate current
Hard corals including mounds, blackcoral and whips.
Variety of reef fishes. Good for snorkelling.
Koh Gra
3-10m
Weak to moderate current
Small rocky island with beautiful coral gardens. Good for snorkelling.
Koh Rang Pinnacles
10-25m
Moderate current
High numbers of gorgonians, black corals, seafans and seawhips.
Angelfish, fusiliers, snappers.
Pelagics such as tunas and barracudas.
Koh Mai Si Lek
10-15m
Moderate current
Hard coral plates and laminates.
Good dive site for crabs, nudis, shrimps and shells.
Passing pelagics such as barracudas, tunas and jacks.