Mataking Island is the kind of place where anyone would like to spend a few days on his vacation. Some people want their holiday to be adventurous, full of intriguing places and experiences that they have never had before. For others, the perfect vacation is somewhere on a remote island, sitting on a sandy beach under a palm tree. No matter which type you are, there is no way you will not like your stay on Mataking.
Located in the province of Sabah, Pulau Mataking is a rather small island, but you have all sorts of activities to choose from on your holiday. However, if you are curious about the wonderful Sipadan and its world class diving conditions, you can take a short boat ride and experience other places as well. The Mataking Island is, nevertheless, a spot where you can combine thrilling adventures and lazy afternoons on the beach.
Mataking Island Diving
If you have chosen Pulau Mataking as your holiday destination, then you probably want to do some scuba diving. There are approximately 12 diving sites around Mataking and there are many scuba programs, so you can choose a Mataking diving package that provides you with an instructor and usually a number of three boat dive combinations every day. You can even obtain certification, depending on how long your stay is on the island.
Dive Map of Mataking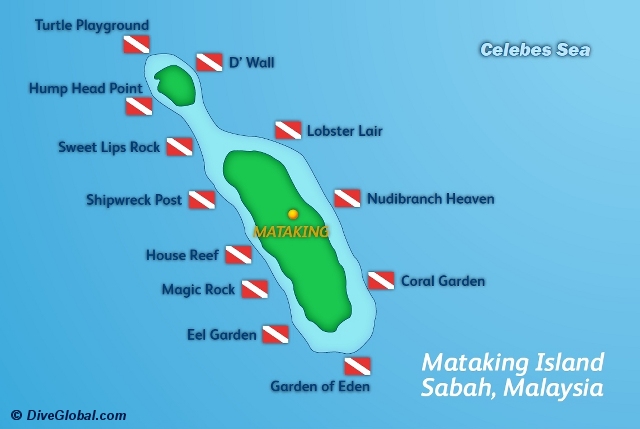 Mataking Island – The Reef Dive Resort
There is only one resort in Mataking, equipped with many facilities and elegant rooms and chalets. You can choose a Mataking package for the resort, allowing you to pick your favorite combination of facilities and services and your most suitable price offer. Apart from having a romantic dinner or listening to locals playing live music, you can request a traditional massage or even organize yourself a traditional wedding on the beach, with local costumes and a beach party. Everyone at the resort will help you acquire some of the most valuable memories of your life if you choose to spend your holiday on the island.
So, if you want a relaxing vacation you will never forget, the Mataking Island is the perfect place to make your dream come true.
Travel tips
Feeling inspired and raring to go? Check out our Mataking travel guide and start planning your next diving trip!