Milne Bay is the large natural harbour at the south-eastern tip of the mainland of PNG. Milne Bay Province includes all the many islands (about 600) and reefs (countless) that radiate from Milne Bay.
Alotau is the provincial capital and is situated in Milne Bay a short drive from the Airport known as Gurney Strip from its WW2 history.
Samarai Island in China Strait, was once the centre of trade and commerce for the region, but nowadays it is just a sleepy reminder of PNG's Colonial Past, and a great dive.
Many villages line the shores of the islands. Telita, which was built by Milne Bay shipwrights, is welcomed on her travels to these villages where fresh fruit, vegetables, fish and artifacts are purchased or traded.
The diversity of marine life in Milne Bay Province is simply unrivalled.
In November and December plankton bloom sometimes attracts Whale Sharks. Minke Whales, Pilot Whales and even Killer Whales (Orcas) are regular visitors.
The scattered islands and reefs of Milne Bay act as an oasis to marine life from the biggest creatures of the deep to the delicate and sometimes weirdest sea creatures ever seen. The reefs are a spectacular eye-catching combination of hard and soft corals. Sea grass beds are home to unusual creatures.
Milne Bay can give even the most travelled diver an exciting and new diving experience and an eye-opening look into an ancient culture.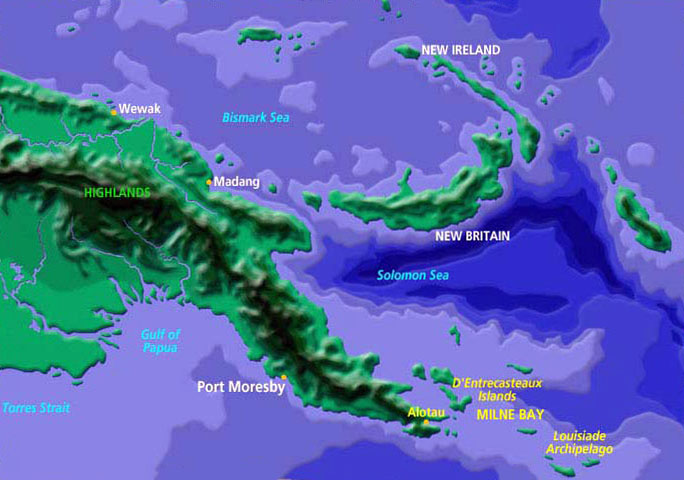 Getting to Papua New Guinea
INTERNATIONAL FLIGHT arrivals at Port Moresby from the following destinations:
Sydney – Monday and Saturday
Cairns – Every day
Brisbane : Monday – Wednesday – Thursday – Friday – Saturday – Sunday
Singapore – Tuesday -Friday only
Tokyo – Narita – Sunday only
Manila – Wednesday and Thursday
INTERNATIONAL FLIGHTS departures from Port Moresby to the following destinations:
Sydney – Friday and Sunday
Cairns – Every day
Brisbane : Tuesday – Thursday – Friday
Singapore – Monday -Thursday
Tokyo – Narita – Saturday
Manila – Wednesday
DOMESTIC FLIGHTS
Air Nuigini fly from Port Moresby to Gurney Airport daily, twice on Fridays and flight time is approximately 50 minutes.
Pre-arranged transport will shuttle you from Gurney Airport to Alotau in approximately 20 minutes flight.
Climate
Rain: Wettest months are May, August and September – rain tends to be localised and some years are quite dry.
Water temperatures: 26ºC (79ºF) during June and July. Up to 28ºC (82ºF) during January and February.
Winds: Southeast tradewinds blow from May through to November. December to April is calm with short but strong blows from Northwest or Southwest.
Occasionally, temperatures can fall as low as 25ºC (77ºF) or rise to 30ºC (86ºF).