This lovely coral island in the province of Sabah is a great destination for those who want something memorable for their vacation. Spending a few days in the luxurious resort and experiencing the underwater adventures will send you back home with some good stories to tell your friends and family.
You may as well choose the Pom Pom Island for your honeymoon, if you are just married. The romantic scenery will make this trip unforgettable many years from now.
Pom Pom Island Diving
The people at the resort are eager to show you everything about diving, since the island and those around it are world renowned for scuba diving conditions. It does not matter if you are an experienced diver or you have just been dreaming about going underwater and you wanted the experience to be exquisite. There are professional instructors on the Pom Pom Island and you can get all the scuba gear you need from the PADI center. The wonderful life forms that you will see underwater will leave you breathless.
Dive Map of Pom Pom Island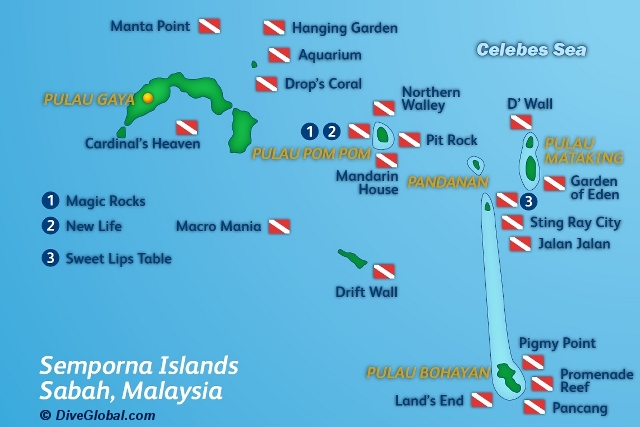 Travel tips
Feeling inspired and raring to go? Check out our Pom Pom Island travel guide and start planning your next diving trip!