The neighboring islands of Shimoni, Wasini Island, Kisite Island, Upper Pengutti and Lower Pengutti all fall under the protection of Shimoni National Marine Reserve.
Kisite Island
Kisite Island is the heart of the marine reserve, and unique diving can be found there.
Pengutti Islands
Around the Pengutti Islands, the diving is between 30-70ft (10-22m), and this area has several resident families of dolphins which are commonly seen during dives. This is a high point for many divers who have not experienced interactions with these friendly mammals.
The reefs around Pengutti Islands are excellent for drift diving. The bottom is a combination of sand flats and reef outgrowths. Stingrays and turtles are commonly seen in this area. There is a general concentration of brilliant coral fish following the reefs around Pengutti. Parrotfish, trumpetfish, batfish, grouper, napoleon wrasse, clown fish, lion fish, and spanish dancers are commonly seen here. Pengutti and Kisite are the main night diving areas.
Shimoni & Wasini Island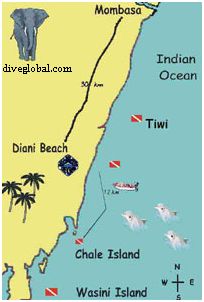 The diving on the South Coast of Kenya encompasses Tiwi & Diani Beaches, Shimoni and Wasini Island near the Tanzanian border. The main reef here is a continuation of the large fringing reef that stretches along Kenya's coastline and to save unecessary repetition, the majority of diving is very similar to the fringing reefs of Shanzu in Mombasa.
As with the other regions further north, this area also has little pockets of glorious diving. Some of the top 5 recommended dives in Kenya are Nyulli Reef and Pink Reef, a must dive for advanced divers ('advanced' meaning content at depth in strong currents) visiting this area.