Kota Kinabalu is well known as the international gateway for divers eager to sample the underwater delights of the famous Sipadan, Kapalai and Mabul Islands off the coast of Sabah.
However the city itself (just 15-20 minutes away by boat) has its own marine attraction that is frequently overlooked. I grew up in this area, and the enchanting and captivating Tunku Abdul Rahman Marine Park (TARP) holds many underwater memories for me; my first crocodilefish, the biggest sea snake I've ever seen, a swimming frogfish and an aggressive tomato anemonefish defending its home. On a recent visit home, we took time to explore my early underwater playground. Not only did the reefs serve up their delicacies but as a bonus, a local dive operator based at the Shangri-la's Tanjung Aru Resort took us diving to two Japanese WW II wrecks located a couple of hours from the city.
The Park
Covering about 4,929 hectares of land and sea off the Western Coast, the Tunku Abdul Rahman National Park is Sabah's second most popular park, after Kinabalu. Consisting of five beautiful islands, Gaya, Manukan, Mamutik, Sulug and Sapi, the park is popular for day trips with locals and visitors alike.
The beautiful white sand beaches are great places to relax, as the gentle sea breeze cools the air. For the more adventurous, there are nature trails to explore, where you can hope to see a great variety of birds such as swallows, hornbills, sea eagles, terns and waders. There are also macaques (mostly on Gaya and Sapi), monitor lizards, squirrels and, more rarely, the bearded pig, and the occasional pangolin.
Those wishing to stay and enjoy the coral reefs, mangrove and lowland tropical rainforest, have three great choices. Firstly, there's an international-standard resort on Gaya Island, with luxurious chalet accommodation. Second, Manukan Island offers several wooden chalets. Finally, public shelters, a restaurant and picnic tables, and a rest house are available on Mamutik Island.
Dive Map of Tunku Abdul Rahman Park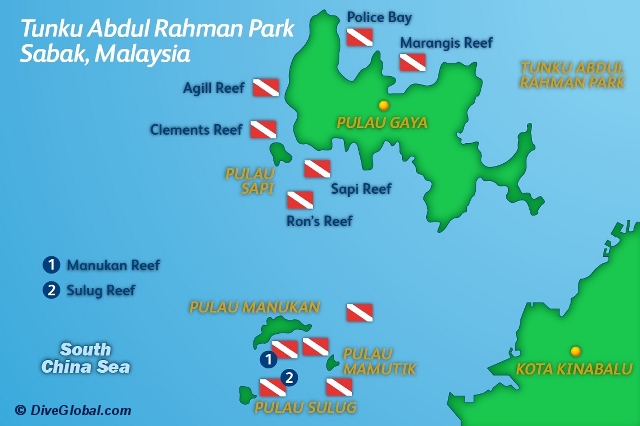 The Tunku Abdul Rahman Park and the surrounding areas are easily accessible from Kota Kinabalu City, making it a perfect option to get wet during your holidays in Sabah. Besides that, there are many attractions around Kota Kinabalu City to occupy divers and non-divers alike. The Sunday Gaya Street Market is a perfect place to shop for souvenirs and to sample local delicacies. Besides this, a visit to the Sabah Museum (located just 10 minutes out of town) will give you an insight to Sabah's history and culture. There are lots more attractions, which can be enjoyed on a day-trip too, such as the Klias river trips and the sightings of the astonishing orang-utans and proboscis monkeys.