To most visitors, the quiet and peaceful country of Vietnam conjures up images of small traditional villages set in stunning mountainous terrain, tropical rainforests and plenty of interesting cultural experiences. However, this long country boasts some fantastic scuba diving opportunities in the South China Sea that are not to be missed when in South East Asia.
In fact, Vietnam is now considered a diving hot spot. Thanks to the sport's relatively recent rise to popularity, many of the diving sites are still in pristine condition, with many spots remaining unexplored even to this day! Stunning reefs, dramatic walls and plenty of underwater diversity await in Vietnam, including half of the world's coral species! With the first ever dive shop still a relatively new venture – PADI only opened the shop in the mid-eighties – scuba diving is quite simply one of the fastest growing and most popular activities in Vietnam.
Vietnam offers something for every diver's preference including wreck sites, drift dives, deep walls with impressive drop offs and gentle sloping reefs in pristine condition. Many of these dive sites are well-suited for beginners, intermediates and advanced divers. Many divers opt to further their diving qualifications during their stay in Vietnam as this is quite a cost-effective exercise.
Dive Map of Vietnam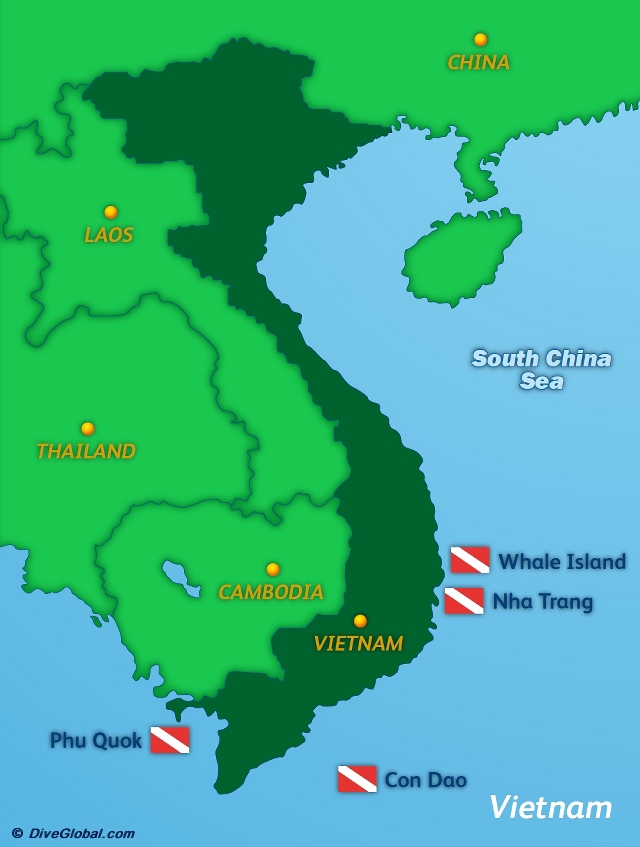 Best Diving Destinations in Vietnam
Scuba diving in Vietnam offers divers the chance to experience some truly phenomenal underwater scenes in an area that has yet to be ruined by mass tourism and over-diving. The coral reefs are all in fantastic condition and the country boasts an abundance of diverse marine and coral life.
The visibility in Vietnam is very often an exceptional experience in itself, reaching an impressive 40 metres in certain conditions. Divers can rest assured knowing that their Vietnamese diving adventure is truly a once-in-a-lifetime experience that not many have had the joy of discovering just yet.
Nha Trang
Vietnam's scuba diving hub is known as Nha Trang, where divers can find local dive shops and a host of dive sites to choose from. The recently-established Hon Mun Marine Park in Nha Trang is hugely popular with tourists, so it is highly recommended to book in advance should you want to explore the central coastline islands from under the water. Your local dive shop may be able to recommend off-peak times when the area is less busy and can be enjoyed by those looking to escape the crowds.
Dive Map of Nha Trang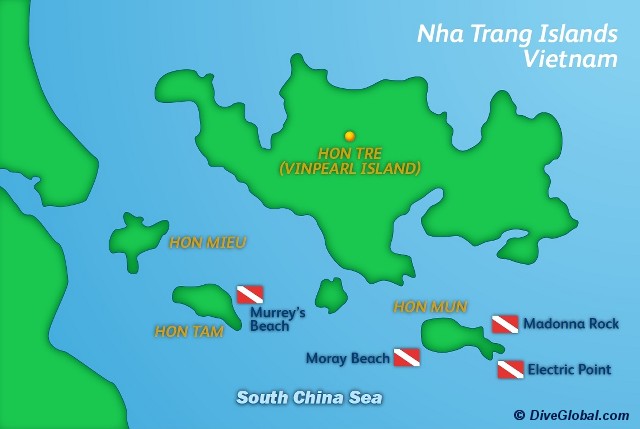 Black Tunnel
By far the most unique and sought-after dive location is the Black Tunnel. Although the name of the site is rather ominous, divers need not be afraid and will find themselves instantly in awe of this fantastic site. The site consists of three caves, which are found in an underwater setting that looks like it could be in outer space. Suitable for advanced divers only, the bottom of this volcanic site is home to shrimp, colourful nudibranchs and lobsters.
Hon Trau Nam
Known for a wide variety of manta rays and sting rays, Hon Trau Nam is another popular diving site in Vietnam. Divers will also have the chance to view the rare and odd-looking black coral in this location.
Whale Island
Whale Island is an ideal location for all diving levels and boasts regular sightings of whale sharks as well as eels and an array of tropical fish. Whale Island is actually a resort and close encounters with the phenomenal whale sharks can be arranged here. The colourful coral along this gently sloping reef is truly spectacular too. The site features a wall with an intimidatingly steep drop off and plenty more to see.
Dive Map of Whale Island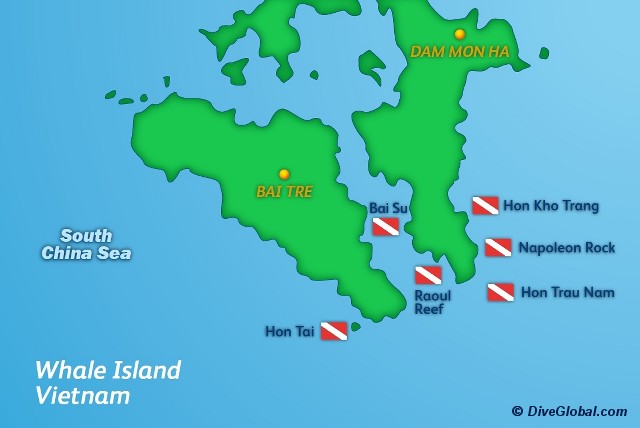 Con Dao
Another option for crowd-escaping is the Con Dao Islands: with only 5000 residents, visitors are unlikely to feel crowded and can enjoy the beautiful scenery here. Marine protection efforts are in full force in this area, specifically in the areas of Con Dao Archipelago where sea turtles and the odd-looking dugongs are being protected. Western-owned dive shops are all over these islands and the dive sites are truly great experiences spread out over 16 different islands where you might find wreck sites, reef dives and many diving students learning or progressing their diving skills.
Dive Map of Con Dao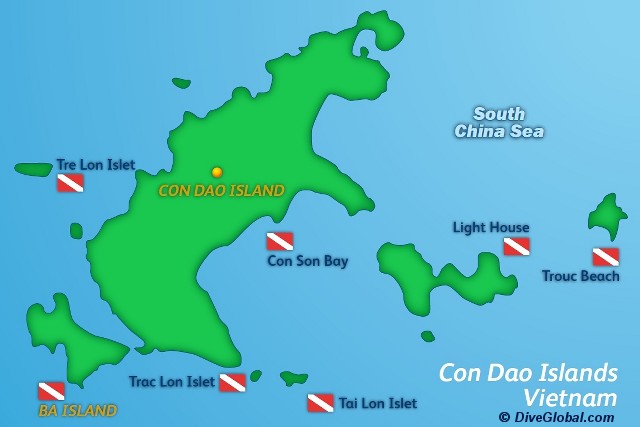 Travel tips
Feeling inspired and raring to go? Check out our Vietnam travel guide and start planning your next diving trip!