Yap is a land with rich cultural traditions with its grass skirts, giant rock money, and traditional men's houses. Has fascinating legends and people with unique cultures, Yap is probably the most intriguing Micronesian Island there is.
Dive Map of Yap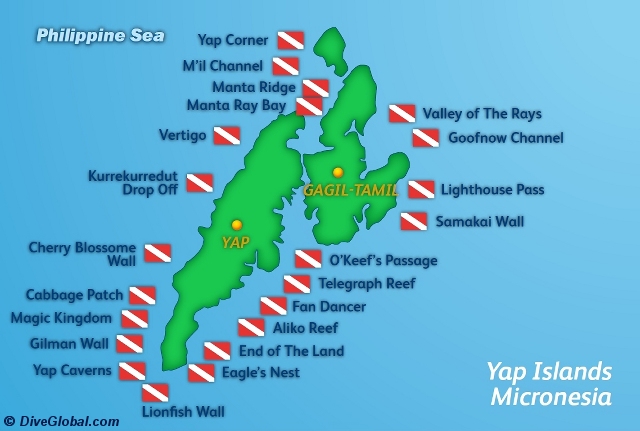 More or less bordered by a reef, the island of Yap offers scenery for a few of the most colorful and varied fish and coral life in the beautiful Micronesia. The island provides a wide range of diving including channel drifts, steep drop-offs, gentle slopes, protected areas of Colonia harbor, a spot where almost all other dive sites are less than 30 min away. Yap is one of the leading places for close sightings of Manta Rays. Divers can never see such creatures consistently than here. This made Yap in the top lists of diving destinations in the planet. Yap is also ideal for snorkeling because reefs are in shallow waters.
Snorkeling
Perhaps the only vision more breathtaking than Yap's fringing reef is the vibrant, underwater paradise that lies just beneath it. Immerse yourself in the majestic world of this kingdom whose creatures dance between corals of every color and whose habitat can only be described as "living art". Curious, bright orange clown fish will beg you to have a staring contest, while flashes of turquoise and periwinkle, from a nearby parrotfish, will convince you to keep exploring. You will catch the eye of a moray eel and likely catch a glimpse of a beloved manta-the only thing we can't promise you'll catch is a blink, there is far too much to see. Our local guides (and most curious reef fish) will lead you on a journey of discovering treasures that are as varied as they are beautiful. Find everything from turtles to WWII artifacts in the most spectacular reef in the Pacific.
Culture
It is easier to keep tradition alive, when it never dies in the first place.
Visit the stone money banks and take a ride on a traditional canoe.
Witness the history of the Island unfold before your eyes in series of traditonal dances.
Experience the beauty of the present holding hands with the tradional past.
Whoever said "the rest is history" was never lucky enough to make it to Yap.
Finally, the present is clearly a product of the past and the past is clearly part of today.
At Yap Pacific Dive Resort our mission is fulfilling your wishes and we will stop at nothing to provide you with the most spectacular of experiences. We have deep pride for our island and our resort and it is our duty to insure that you can see why. When you are here-you are family. Welcome home.
The Resort
We call it a resort for a reason. Our beautiful, Victorian Styled building is indeed eye catching, but it is only a small part of what we like to call home. We take as much pride in our rooms as we do our grounds, as we do our food, as we do our service, as we do our diving. I guess it would make sense, then, that our resort continues to be nominated for World Travel Awards. Best resort in Micronesia? We think so.
Grand Suite
Our grand suites offer the perfect combination of elegance with a warm and soothing ambience. Our suites provide the upmost in relaxation in a room with (several) breathtaking views.
Standard Rooms
We want you to feel at home when you are staying with us and so we have made it our mission to insure the most comfortable and enjoyable possible stay. With all that Yap has to offer-we know that a good night's sleep is a must! Stay well!
Park & Pool
Be refreshed. Our pool is right in the middle of our lush gardens (but in close distance to the bar) and is a private oasis for our guests. Sitting poolside is the perfect way to start and end your days. The view of the ocean doesn't hurt either.
Restaurant & Bar
Enjoy a magnificent culinary experience while staying with Yap Pacific Dive Resort. Our gourmet food and drink is available to you through our Italian restaurant, Viennese café, and our poolside bar and grill. A taste for every appetite- dining with us is unforgettable.
Dive Center
We have spent a lifetime searching for the best diving spots on this island. We want to share it with you. The dive center is modern and fully equipped and we are proud to provide world class diving. Free NITROX and PADI/SSI Training courses are offered. Speed boats are available for rent.
Diving on Yap Island
"From big to small, Yap has it all," said Paul Munizinger (German Tauchen Magazine) of diving in our waters. We tend to agree with him. Mantas, sharks, eagle rays, and mandarins… we could go on but it would be much easier to just say "un-beatable". So, unbeatable.
Activities
The Resort offers a variety of activities that are as enjoyable as they are unique. Hike and bike your way through the jungles of paradise, dive the underwater kingdoms, and explore the island for all that it is worth. We aim for your experience to be absolutely priceless.
Spa
A haven within a haven, our spa is the definition of relaxation.
Nestled in the greens of paradise is a place waiting to indulge and soothe you from head to toe.
We offer you the most luxurious in spa treatments from manicures and pedicures to local massages.
We'd tell you to take a deep breath but… we already have that covered.
Yap beautiful island
You may have heard about pristine islands in far away places. Where natural beauty is not a description, but a lifestyle. Where getting your feed wet is just the beginning of it. You may have heard there is a place for everyone. Where you can find yourself and lose yourself at he same time. You dreamed this place, wondered if it is real. You were right.