Telita liveaboard is based in Papua New Guinea's Milne Bay Province which is famous for its amzing biodiversity, vibrant and colorful reef systems, some of the world's best "Muck" and "Macro" diving, manta rays and the best aircraft wreck diving in PNG.
Special dive expeditions cruise to Tufi in the North West and to the Louisiade Archipelago to the South East.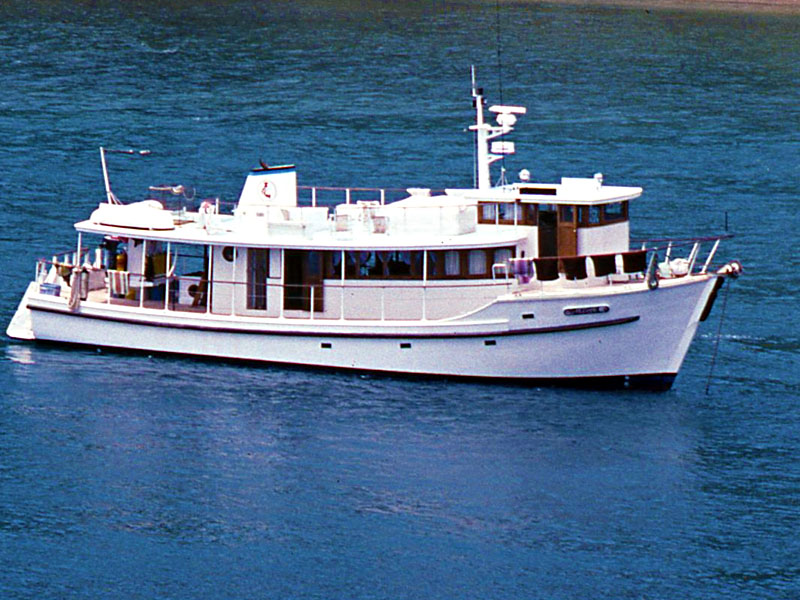 Cabins
MV Telita sleeps 10 guests in five cabins, all cabins have been renovated and now have modern well appointed ensuite bathrooms & W/C. The air conditioning is ducted & Individually controlled, hair dryers and dual voltage power supplies are installed throughout. The deck plan below will show you the new cabin / bathroom layout.
Deluxe double cabin 5
Situated on the main deck is our premium cabin. It has a double bed and an ensuite bathroom.It is air-conditioned, has a hair dryer and has a 120 and 240 volt power console.
Deluxe Combination Cabins (1 and 2)
Situated on the lower deck these cabins have a small double bed and a single upper bunk with ensuite bathrooms.
Deluxe Twin Cabins (3 and 4)
Also situated on the lower deck these cabins have 2 single bunks with ensuite bathrooms.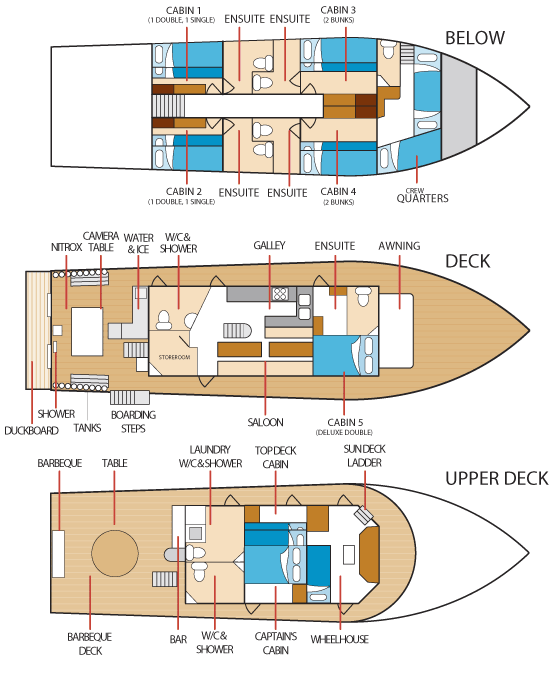 Nuigini Islands
Telita will be going in a new direction – North! The boat will spend half of the year exploring the Nuigini Islands (Kimbe, Kavieng and Rabaul). We believe that these new itineraries are a great complement to our Milne Bay trips earlier in the year. So, whatever your diving preference, Telita has an itinerary to suit your needs.
With a crew of eight and a maximum of ten guests, Telita offers a high level of personalized service. The boat offers five luxurious cabins all with ensuite bathrooms, indoor and outdoor dining facilities, a brand new Nitrox membrane system, free laundry service and a DVD and reading library. Our stabilizers and state of the art navigation systems ensure safe and comfortable cruising. We also offer dive instruction.
Telita offers up to five dives per day. Our dive deck offers a camera table, hot showers and a spacious diving platform. We also have two inflatable tenders. During your trip, our staff handles your gear. From the initial set-up to washing it at the end of the week, we do it for you.
Unlike many of the larger boats with fixed itineraries, we take you where you want to go. Our crew make every effort to show you what you would like to see – big stuff, little critters, land excursions. Telita is ready to make your trip to Papua New Guinea a memorable experience – both above and below the water!
Itineraries
Itineraries are subject to weather conditions and the captain's discretion.
With the wide range of dive sites on offer we can tailor every itinerary to the clientele depending on their experience and what they wish to do. Where no bookings have been made schedules can be changed – please inquire.
Muck Dive Site
Dinah's Beach (Lauadi Village)
A Shallow dive just off the beach west of Basilisk Point on the north coast. In the shallows the reef and rubble are home to an amazing array of small critters. Scorpion Fish, juvenile Bat Fish, Sea Horse, Panda Clown Fish, many types of nudibranch, Razor Fish and Gobies.
Critters such as Twinspot and Dwarf Lion Fish, morays, Mantis and Cleaner Shrimp, octopus and Wunderpus have been seen here. Day and Night dives, plus dives on Deacon's Reef drop off and coral garden nearby and visits to nearby waterfalls and skull caves ashore.
Kwato
The diversity of animals is amazing, from Bump Head Parrot Fish to Mandarin fish, Mantis Shrimp to Flamboyant Cuttle Fish, Sea Horses, Pipe Horses, Decorator Crabs and nudibranchs many types of Scorpion Fish and Lion Fish. Dense schools of bait fish swirl overhead. The wreck of an old barge lies in 10 metres of water and is home to many kinds of larger fish like Cod, Mangrove Jack and Sweetlip. With a maximum depth of 20 metres dives are as long as you like and very fruitful, a photographer's fantasy with new species potential.
Observation Point
A world famous muck site, a beach with a steep slope of sand and all the critters you could hope to see. Upside down Jelly fish, Gobies, Sand Divers, Juvenile Cuttlefishes and, Batfishes many types of shrimp and at night shells come out on the sandy flat to feed. Only 50 metres away is a very good reef dive (3 metres to 40 metres +) not quite a wall but very steep with great hard and soft corals, passing pelagics patrol the channel edge and the reef has a great established local population, true Clown Fish, Shrimp, Scorpion Fish, large stingrays are found deeper on the sand. This area has choices with a full cross section of animals in the channel. Many new species were first discovered here.
New Muck Sites
Bob and Dinah Halstead coined the word "Muck" diving for the special critter dives they discovered in Milne Bay aboard Telita. They are still seeking and finding new Muck sites, and finding new critters! Last years finds included mating Blue-ring Octopus, a family of Giant Melibe nudibranchs and new records of octopus and fishes for PNG. Dinah had a new goby named after her in 2002, Lubricogobius dinah, and Bob had a new razorfish named after him in 2003, Xyrichtys halsteadi.
Open reef and Wall Dives
Keast Reef
Between Cape Vogel and Goodenough Island Keast Reef is a pinnacle rising up out of 600 metres. A spectacular wall with huge schools of pelagics, Barracuda, Mac, Dogtooth Tuna and Jacks, usually a current here from the SE, so a drift along the wall is great, passing sharks, Black Tip, Grey Reef and on occasion Silver Tip and Hammerhead. Huge Coral Trout, Maori Wrasse cruise the wall also. Reaching the end of the reef and beside a gentle sandy slope there are gobies and Sand Divers, sweetlip and schools of smaller barracuda, then swimming up to coral gardens which hold a blinding diversity of smaller reef fish, Anthias, cardinals, parrot and wrasse of many types. Keast Reef is out in the open seas so receives a full current and nutrients that sustain a vast population of sea creatures.
Calypso
An offshore reef with a kilometre long shoulder (ridge) extending to the north, a thin finger of reef starting at 8 metres on top and plunging down walls on either side to 50 metres plus. Shark and pelagic action with caves and crevasses, huge Gorgonian Fans and Whips feed in the current. Drifting down the wall and easing up to the reef top to return to the boat brings coral gardens of astonishing beauty. Schools of Barracuda patrol this top and many types of nudibranchs are found amongst the hard and soft corals. An excellent dive where Telita teamed up with Jacques Cousteau's Calypso when filming the best of PNG in 1988.
Nuakata Island Reefs
These reefs pepper the waters around this large island. At the entrance to Milne Bay, washed by constant current and nutrient flow they hold huge numbers of fish including rare ones such as Rhinopias Aphanes (Lacy Scorpionfish) and Pigmy Seahorse. Deep channels where Manta's and Mobilia play and feed are close by. Sometimes Sailfish and Marlin are seen. Hammerhead sharks patrol the deeper drop-offs.
Giants at Home
A small island in the China Straits area that is very special. A coral outcrop (Bommie) sits just off the beach in only 9 metres of water that is a cleaning station for Manta Rays. These huge creatures will come here from time to time to be cleaned of parasites. To sit on the sand and see these amazing animals hovering just a few centimetres away is a sight to behold. This is also a fine muck site quite often produces seldom seen animals, a nudibranch heaven.
The Washing Machine
Leave your cameras behind – bring your laundry! PNG's fastest drift dive through its most beautiful passage into a quiet lagoon. Unbelievable fish life and colourful scenery
The Louisiade Archipelago
An unexplored maze of amazing reefs and islands. Telita is now venturing into this new territory and discovering wonderful diving and cultural experiences in the most remote of PNG's Island realms. Join the Pioneers of PNG Live Aboard diving, Bob and Dinah Halstead, and play your part in the discovery of wonderful new diving.
Tufi
PNG's Fiordland has stunning off shore reefs , great muck in sheltered water, WW2 wrecks and dramatic scenery. Telita is making seasonal cruises from Alotau in Milne Bay to Tufi and return.