Hurghada is a hugely popular tourist destination for both divers and sun seekers and as such is home to an abundance of hotels, dive shops and resorts.
Plan your next dive trip to Hurghada with the following travel tips and advices.
Table of Content
Pictures of Hurghada
Hurghada Travel Guide
The resort town stretches 40 kilometers along Egypt's Red Sea coast and offers all the hustle and bustle that comes with catering for a large international tourist base – nightclubs, restaurants, coffee shops and traditional Egyptian souks.
Activities and Tours
As can be expected at popular tourist destinations, a number of options are available for sightseeing in and around Hurghada too.
Best Months to visit Hurghada
Where to stay in Hurghada?
Arranging accommodation and diving in Hurghada is hassle-free.
How to get to Hurghada?
Hurghada is easily reachable from Europe and internationally via the large international airport in Cairo.
Map of Hurghada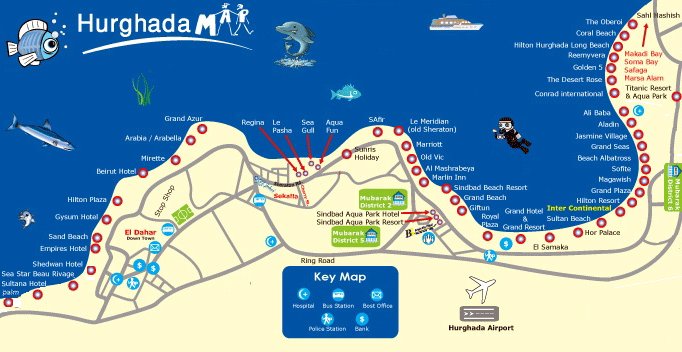 How to get around Hurghada?
Scuba Diving in Hurghada?
Check out our Hurghada scuba diving guide and start planning your next dive trip!