Anywhere you dive in Sharm el-Sheikh is likely to impress – there are a number of well-protected marine national parks teeming with exotic and colourful reef fish, while both soft and hard corals thrive in the region.
Image from flickr
Youtube Video.
Known as one of the best wreck dives in the world, the SS Thistlegorm is a massive 128 meters of sunken history reaching as far back as 1941. The transport vessel was travelling from Glasgow in Scotland to Alexandria in Egypt when it was bombed by German bombers and has now been added to Egypt's already impressive list of diving opportunities.
Explore below more details about scuba diving in Sharm El-Sheikh.
Table of Content
Underwater Pictures of Sharm El-Sheikh
Ras Mohamed
Ras Mohamed is the ultimate in diving destinations and has officially been a protected marine national park since 1993. Divers can expect to be impressed by the stunning underwater scenery that abounds at the many Ras Mohamed dive sites. Drift dives, coral walls and pinnacles all await and are regularly visited by large pelagics such as trevallies, jacks and barracuda. Turtles, white tip reef sharks and even hammerhead sharks enjoy these nutrient rich waters around the well-known Shark and Yolanda reefs.
Shark and Yolanda reefs
Yolanda Reef offers an interesting log book entry as the freight ship went down in the 1980s carrying its cargo load of bathroom marchandise. Everything from toilets to sinks can be seen on the sea floor.
Ras Bob
Named for an underwater cameraman and well-known Sharm dive instructor known as Bob Johnson, Ras Bob is a sheltered site made famous by a Cheltenham & Gloucester advert for pearls. The site offers far more than can be seen in the advert though, with caves, overhangs, bays and gullies just waiting to be explored. Underwater photographers should look out for menacing-looking crocodile fish and majestic blue spotted stingrays that often hide out on the sandy sea bed.
Jackson Reef
One of the most exciting dives of the lot in Sharm el-Sheikh is the drift dive known as Jackson Reef. This reef is one of four large reefs that resemble underwater mountains in the Strait of Tiran, known for its exceptional drift dives. Divers will be swept along by the strong current at a rapid pace, but with plenty of time to take in the abundance of marine life and magnificent walls covered in soft and hard corals.
The SS Thistlegorm
The battle scars still remain on this silty, well-preserved underwater giant and most of the now-rusted cargo is still present. The ship was carrying ammunition, radios, motorcycles, rifles and a number of armoured cars and trailers, all of which make for a very interesting dive that is highly acclaimed as one of the best wreck dives in the world. Other wrecks worth exploring are the Dunraven Wreck and the Rosalie Moller Wreck.
Dive Types Overviews
Best Season to Dive in Sharm El-Sheikh
Diving is possible throughout the year and divers usually opt for no thicker than a 7 mm wetsuit when the water is at its absolute coldest at 22°C.
During the summer months of June to September, a 3 mm wetsuit is more than sufficient for the warm waters averaging 28°C.
Some visitors cannot withstand the high outside temperatures in summer which frequently rise above the 40°C mark. For many divers, the best time to visit Egypt is around October and November when the weather is cooler.
Temperature and visibility
Dive Map of Sharm El-Sheikh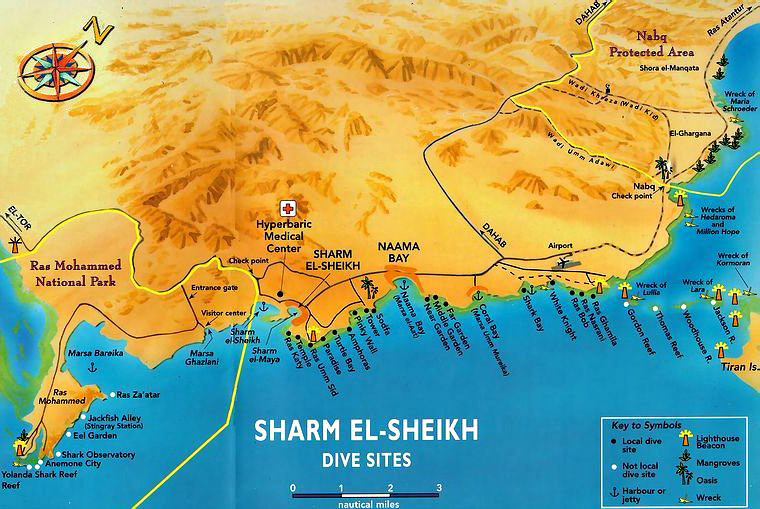 Dive Centre or Liveaboard?
Htere is a large number of Dive Centres in Sharm El-Sheikh, making it easy to organize a day trip dive safari or a longer Red Sea liveaboard.
A number of award-winning dive centers and training facilities are available in Sharm el-Sheikh and many of them offer attractive packages to entice entire families to try diving, blow some bubbles and join a diving course.
To avoid the masses and explore some of the most famous as well as the lesser-known dive areas, dedicated divers often choose a liveaboard holiday experience to get the most out of diving in the Red Sea.
Travel tips
Feeling inspired and ready to dive the Red Sea? Check out our Sharm El-Sheikh travel guide and start planning your next diving trip!