Guam is not usually at the top of many peoples' bucket lists, but this often-overlooked holiday destination is in fact a scuba diving hot spot with incredible beaches and crystal clear waters jam-packed with unique underwater life.
Guam boasts an impressive amount of coral that comes in all shapes and sizes, with around 375 species having been recorded as well as over 1000 species of colourful reef fish. As the second-largest island in Micronesia but still only 48 kilometres long and 19 kilometres wide, Guam is situated in the calm North western Pacific waters surrounding the Marianas Archipelago. It can be reached via aeroplane from a number of international destinations, one of the closest being Japan.
Having played a vital role in both World Wars, Guam is well-known for having a number of great wreck dives to explore as well as shore and reef dives. Guam has over 60 different dive locations and these are all easily explored either from the shore or with dive operators scattered around the island.
Dive Map of Guam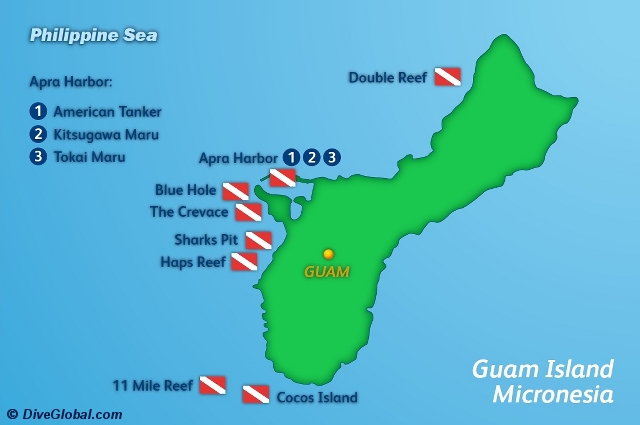 Scuba Diving in Guam
While the term "best-kept secret" may be cliché, in many ways it applies specifically to Guam as there is much to offer every level of diver from the new student to the jaded pro.
Guam is by far one of the safest dive destinations in the world. It has U.S. Coastguard and Navy patrolled waters and dive boats are all certified through the Coastguard. The boats carry oxygen and safety equipment. Guam has recompression chambers for the treatment of any possible diving accident.
Generally, diving on Guam is easy. There are many walk-in reef dives, a very wide choice of boat dive sites and virtually no swells except after storms. So 95% of the year the seas are perfect for diving. Most dive sites are a 10 to 20-minute ride by boat.
If one wants to travel light, Guam has everything a diver needs for hire. There are also some very good scuba equipment deals to be had at the various Guam dive shops. Many divers' combine Guam with another Micronesian destination.
Diving in Guam can be a quality experience of reefs and wrecks with over 100 charted dive sites on the island. The healthy outer reefs and coral laden reefs in the expansive Apra Harbour provide lots of fish watching and marine invertebrates. The harbour also hosts many shipwrecks and other remnants of war.
Guam is the southernmost island in the Mariana chain and the entire area is famous for its clear water. A week of diving will also explore outside the harbour to the drop-offs and inner bay reefs where good visibility is the norm. There are also war relics on Guam's outer reefs, especially in Agat Bay. This will give the diver the best of both of these environments. Divers attempting this suggested five-day tour should have a minimum of 100 dives and deep diving or wreck diving training is helpful.
Best Diving Destinations in Guam
Diving is possible all around the island of Guam, and warm waters and calm conditions make for pleasant diving at any time of year. There are also many easily accessible shore dives, making diving a breeze.
Gun Beach is one such shore dive which is located in the highly popular touristic area of Tumon. Rays, turtles and multi-coloured reef fish are all sure sightings.
Wreck diving is spectacular in Guam, and the island boasts the one-in-a-lifetime chance for divers to see a World War One and World War Two ship wreck in one dive. The first ship from WWI was the SMS Cormoran, a German merchant ship and the second from WWII was a Japanese freighter, the Tokai Maru. The wrecks even touch underwater, making this a truly brilliant log book entry. As if this wasn't enough sunken treasure action, the Apara harbour that holds both these World War wrecks is also home to a Japanese Val bomber as well as the Kitsugawa Maru which is in extremely good condition and lies in an upright position.
Fish Eye Marine Park is a worthwhile attraction for the whole family – divers and non-divers alike. The park has an observatory that lies semi-submerged in the water, allowing non-divers to experience a glimpse of the underwater paradise that Guam has to offer. For divers, it is worth diving at this Fish Eye site due to its easy shore entry and its large populations of reef fish.
If you're looking to explore some oddly named dive sites, try Gab Gab 1 and Gab Gab 2. Although technically accessible from the shore, you'd need access to the military base in order to do so, but many dive shops in the area take boats out to these two pristine dive sites. Gab Gab 1 is famous for placid green turtle sightings and Gab Gab 2, located slightly more offshore, is home to white tip reef sharks, groupers and giant trevallies.
Cocos Island is a small island at the southern tip of Guam that is surrounded by a barrier reef. The deep walls and drift dives in this area are simply magical and are definitely a must-see. Many species of pelagic fish, hammerhead sharks, rays and turtles can all be sighted on these dives.
Guam Dive Sites
Orote & Agat
The Orote Peninsula and Agat Bay Reefs in south-central Guam is one of the most popular dive regions on Guam as it offers a protected bay that is accessible to divers for most of the year. In addition, the area is known for its water clarity. Facing the open Philippine Sea, the reefs here drop-off abruptly to great depths.
At The Blue Hole
Guam's premier novelty dive, this drop through a cobalt chasm starts at 18m (60ft) and exits along a sheer outer wall at 38m (125ft). Moray eels, shoaling goatfish and even big pelagics are seen here with frequency. Visibility almost always exceeds 30m (100ft). The dive starts at one of two permanent mooring situated on a shelf above the Blue Hole. Divers descend into the blue water and look around for any sign of big fish in the blue abyss south of the wall. Whale sharks, sailfish and even dolphins have been seen in the waters along this peninsula.
Shark Pit
Just down the peninsula from The Blue Hole, is a site of WWII military dumping. This dive site is actually a big pinnacle that comes to within 3 to 5m (10 to 15ft) of the surface. Divers enter at the top of the pinnacle and descend along its sides.
Many artefacts like tracked vehicles can be found here, but the fish life is also prolific with shoals of pyramid butterflyfish and even the occasional ornate ghost pipefish in the sea fans.
Hap's Reef
Hap's has long been the favoured reef of Guam fish watchers. Just right for a third dive, this 8 to 15m (25 to 50ft)-deep, loaf-shaped reef supports a large variety of Micronesian fish species.
Sea anemones can be found on the top of the reef and there are different clownfish species in the various anemones.
Apra Harbour
Exploring the top shipwrecks in Apra Harbour includes the SMS Cormoran. This ship was scuttled by its captain to avoid capture and some of the crew went down with the ship at the start of WWI. One of diving's unique sites, the Tokai Maru rests next to and above it. It is the only site in the world where wrecks from two world wars touch one another. A diver can go aft of the Cormoran to this spot.
Sitting on its starboard side, it can be penetrated with a guide so divers can see the engine room. The engine room hatches have been propped open and the engine and the walkways can be explored by divers who are familiar with penetration diving. There is a lion-claw bathtub in the ship. Since the ship is on its side, care should be taken to not become disoriented.
Tokai Maru
Sunk by a sneak attack from a US submarine during WWII, this ship went down at the same anchorage as the SMS Cormoran and portions of their sterns touch. Near this area is also the torpedo hole from that strike.
The ship is generally shallower than the Cormoran but much longer, so a full swim along it can take up an entire dive.
With a large bridge area and lots of holds, it is a great swim for a second dive. Those familiar with penetration can go inside the large bridge area here and see the remains of latrines, sinks and even tile-floors but be very careful as it is covered with silt.
Kitsugawa Maru
This WWII ship sits upright close to the main shipping channel. Divers normally descend the forward mast and then move toward the bow of the ship. The bow is still largely intact and it is a very photogenic spot for underwater photographers' wanting to capture the essence of a war wreck.
It has a gun at the bow that still has boxes of ammunition on the turret. There are holes where ammunition was taken from the boxes. Look for octopuses residing in these holes.
The Northern Reefs
Exploring the scenic northern reefs and drop-offs also gives divers a glimpse of the scenic northern cliffs.
Hospital Point
Located near the Tumon/Tamuning area on the west-central coast, this site promises big pelagic action with colourful sea fans and a steep drop-off that sometimes provides a nice drift-dive.
The water here is generally very clear with a reef flat up in the shallows and then a sloping drop-off that can be quite steep in places. Drift with the current here, divers trained in deeper diving can go down and look for Gorgonian sea fans and shoals of bigeye trevallies.
Double Reef
Double Reef is located far up Guam's uninhabited coast in the northwest. A small reef structure actually protects the inner barrier reef and the bay area in between has healthy corals and white sand. The ride up to the site is a pleasant one as the Two Lover's cliffline and other coconut tree-lined beaches greet the diver.
Gun Beach
Named for the WWII gun that sits on its shore, this sloping reef has a lot of fish life and is great for fish photography. This is a favourite snorkelling site for some tours, so the fish get fed occasionally. Thus, divers will find willing subjects almost the minute they hit the water.
The Harbour Dives
Guam's Apra Harbour has some of the clearest water and healthiest reefs of any Pacific harbour.
Hidden Reef, a healthy reef in the mouth of the Apra Harbour, has shelves of stony corals and good fish life. This site isn't visited that often by divers and surprises can occur here. Great hammerhead sharks are seen here on occasion. Look for pyramid butterflyfish and numerous sea anemones on the reef.
American Tanker
A very fishy wreck, this big water tanker is a remnant of WWII. This tanker was probably sunk here on purpose after the war as part of the building of the Glass Breakwater. The entire northern peninsula in the harbour was built after the war and there are other small wrecks, barges and other remnants all along this break.
Fingers Reef
Located on the south side of the harbour close to the mouth, a natural reef formation projects many fingers of attractive stony coral. This coral can be quite fragile, so divers should take care to not break the formations with their fins. Divers can go shallow or deep here but the most fish life is shallow, making for a long and relaxing third dive.
Agat Bay
Guam's Agat Bay is calm and protected most of the year and a favourite spot for divers to explore the deep drop-offs and sandy flats of this varied topography. At Facpi Point, this deep drop-off area offers a couple of good sites with red sea whips and clear water. This is one side of a big horseshoe that spills out into the open sea and into the depths. Sloping walls and sandy valleys with bright, white sand form some of the sites at this end of the bay. So there's always the possibility of seeing big fish like marlin or sailfish here and grey reef sharks are seen as well.
Agat Bay Amtrac
In this scenic part of the bay, the water runs along a shelf and into a deep valley that eventually spills into open sea. Then past Hap's reef are shallower sand valleys. The shelf holds the remnants of a US Amtrac, which was probably part of the invasion mission to retake the area.
Guam
Coral Gardens
Anae Island sits south of the Agat Marina and is a place where there are nice corals and lots of different marine creatures from spinner dolphins to eagle rays. Just a short boat ride out of the mouth of the marina, divers can drift through the sandy channel areas or go up into the coral growth closer to the island to explore.
This scenic area near Anae Island is great for macro critters like colourful flatworms, nudibranchs and Christmas tree worms.
When to Visit Guam
Guam offers pleasant scuba diving conditions all throughout the year, simply adding to the reasons why it is a fantastic option for divers and non-divers to enjoy a great tropical beach holiday. The water is generally calmest in the summer and can reach temperatures of 28°C during these summer months. Guam experiences a very mild rainy season from September through December and wind significantly increases from around December to April, however scuba diving is still possible and pleasant. On average, air temperatures in Guam are fairly consistent at 26°C but if high humidity is not desirable for you on your holiday, the peak summer months of XXX are to be avoided.
Getting to Guam
Perhaps the only reason that Guam is overlooked as a hassle-free holiday destination is that its remote location does require some effort in terms of travel. However, many would agree that the travel time is entirely worth it. Flights from certain major US cities such as Los Angeles are fairly common, as are a few Asian destinations such as Japan. These flights and others from Australia all land at the International Airport in Guam.
International visitors should take note that as Guam is a United States territory, a travel visa will be required before travelling should your passport require you to obtain a visa when visiting the United States. This is in compliance with United States law. Once settled in Guam, exploring the island is easy to do with well-maintained roads and affordable rental cars.
Nearby Micronesian diving hot spots such as Chuuk and Palau are easy to reach from Guam and the island can be used as a worthwhile stopover between diving hubs.
Where to Stay in Guam
Although there are not formal dive resorts in Guam, there are a number of dive operators that tend to be evenly dispersed in the areas where diving is very popular. These dive shops will cater for tourists and should be able to communicate in both Japanese and English. Many of these shops will offer more than just transportation to the dive sites and often cater for the visiting diver's every need with equipment hire, training opportunities, daily boat trips and even tours that cater to non-divers.
An interesting angle to consider is that many of the divers in Guam will be local rather than visiting divers. Due to the large presence of American military in Guam, divers often find themselves accompanied by ex-pats who have learned to dive in Guam and continue to explore the many beautiful sites even though they live in the location year-round.
Snorkelling
For those who may not have the time or training to do a lot of diving but still want to see what the sea life is like, snorkelling and marine destinations abound. This is also great family fun. For example, Guam has five zoned areas as marine preserves. One of these is Fish Eye Marine Park, where you can snorkel and visit an undersea observatory.
This walk-in site has more than 200 fish species as it is a marine park and incubator for fish and invertebrates. Divers can see the healthy reef on the south side of the observatory, feed the fish and even snorkel around the observatory itself. A visit to the unique observatory is also included and can be done before or after the snorkel. The tour has seven stops and looks at various fish species, different corals and also a sea anemone colony with clownfish.
There is a resident pufferfish just under the entry and an exit platform at Fish Eye. Afterwards, take a trip inside the observatory or visit the gift shop in the Fish Eye facility across the street. There is also and undersea marine photography gallery found here.
For lunch, grab something and visit Tumon Bay's Ypao Beach. Another easy walk-in snorkel at one of Guam favourite beach parks in Tumon Bay, the clear waters and brilliant white sand make this a great place to enjoy the many corals and fish. Set next to one of Guam's nicest public parks, one can have lunch before or after the snorkel at beach side.
There is an inshore current here and if the current is strong, the snorkeler can do a drift along the reef-top and just walk back up the beach when finished with this free ride from Nature.
This snorkel package is a full day of enjoying the wonderful marine life of the Pacific.
Practicalities
Guam also offers all levels of instruction from beginning open water and one-day resort experience through advanced instructor training. Technical diving is also taught on Guam with deep wreck venues for in water training on scuba and rebreather. PADI and NAUI are the main agencies working on Guam.
Underwater photography can be rewarding. Film processing and digital printing is available. Guam also has a professional camera centre that carries many top camera brands among a good range.
Guam is tropical and almost always sunny. Bring protective clothing like a long-sleeve T-shirt and brimmed hat. Sun tan protection is a necessity as well.
Guam has flights from all major Asian cities with many daily flights originating in Japan and a daily out of Hawaii and Manila
Travel Facts
Nearest International Airport
Guam International
Dry Season
Year round
Electricity
120 V, constant
Local Currency
US Dollars
Country Dialing Code
+671