Hurghada has dive sites well-suited to every diving level from deep and intimidating pinnacles, walls and wrecks for experienced divers to the clear and shallow water dives for those just starting out on their diving adventure.
Originally predominantly a highly acclaimed diving location in the 1980s, the destination has since become extremely popular with all kinds of tourists and many holiday packages are now available.
Image from flickr
Youtube Video.
Explore below more details about scuba diving in Hurghada.
Table of Content
Underwater Pictures of Hurghada
Favorite Dive Spots
Where ever you may choose to dive, here are a number of well-known favourite dive spots in Hurghada:
Abu Ramada Island
The small island of Abu Ramada has a number of dive sites to peak one's interest. Ideal for beginners due to its light currents and white sandy bottom, the oval reef of Gota Abu Ramada is perfect for those just starting out. You'll have a chance to see a number of the 1100 diverse fish species that inhabit the Red Sea such as colourful parrot fish, yellow tail barracuda, black spotted sweetlips and yellow goat fish. Look closely in the sandy areas for blue spotted stingrays. Peppered morays and giant morays are also common in the area.
For the more experienced diver looking for a thrill, Abu Ramada North is an exciting and picturesque wall dive that is covered in beautiful gorgonian fans and soft corals. Here divers can happily spend their bottom time amongst masses of schooling banner fish while imposing barracuda lurk in the distance.
Shaab el Erg
This horseshoe-shaped reef boasts a number of dive sites that will give divers an insider's look into the world of turtles, sting rays, moray eels and many more exotic marine animals. Shaab el Erg is also the perfect location for dolphin spotting and has become very popular with tourists for this reason. Divers also tend to frequent the site known as the Dolphin House which includes the lagoon channel used by the dolphins.
Careless Reef
Careless Reef features beautiful coral gardens and two pinnacles with deep drop offs. Well-known for regular hammerhead shark sightings, the pleasant topography, myriad of colours and excellent visibility make this reef a firm favourite for all divers.
Abu Nuhas
If wreck diving is your forte, look no further than Abu Nuhas, aptly named and translated to mean 'father of bad luck'. An impressive 4 wrecks lie in the depths at this site and make for an interesting and historical dive at depths that are manageable even for beginner divers.
Giannis D is the shallowest wreck that stretches over 100 metres in length and has been at a depth of 24 meters since 1983. The engine room is much shallower at a depth of 13 meters and is easily accessible through masses of glassfish.
The Carnatic, originally carrying wine, gold and cotton to India, sunk in 1869 and is one of the oldest wrecks in the Red Sea.
The Chrisoula K sank in 1981 and now sits upright in the water surrounded by trigger fish, lion fish and corals.
The last of the easily accessible wreck dives at Abu Nuhas is called Kimon M, a 120 meter long German cargo ship laid to rest in 1978 that is now home to a number of different pipefish species.
Dive Types Overviews
As it is one of the most popular diving locations in the world, many of the dive sites in the Hurghada region have suffered from the immense number of divers constantly visiting the reefs. However, divers can easily avoid overcrowded dive spots by coming in the correct season and opting for some of the lesser-known, but equally fantastic dive sites.
Wreck Diving
Reef Diving
Best Season to Dive in Hurghada
Egypt experiences an arid climate which enables diving throughout the year regardless of the season.
Hurghada has warm waters all year round, with temperatures in the range of 28°C in September, just after the summer (May – August). Winter temperatures during January and February are still comfortable in the range of 22°C.
Temperature and visibility
Hurghada Dive Map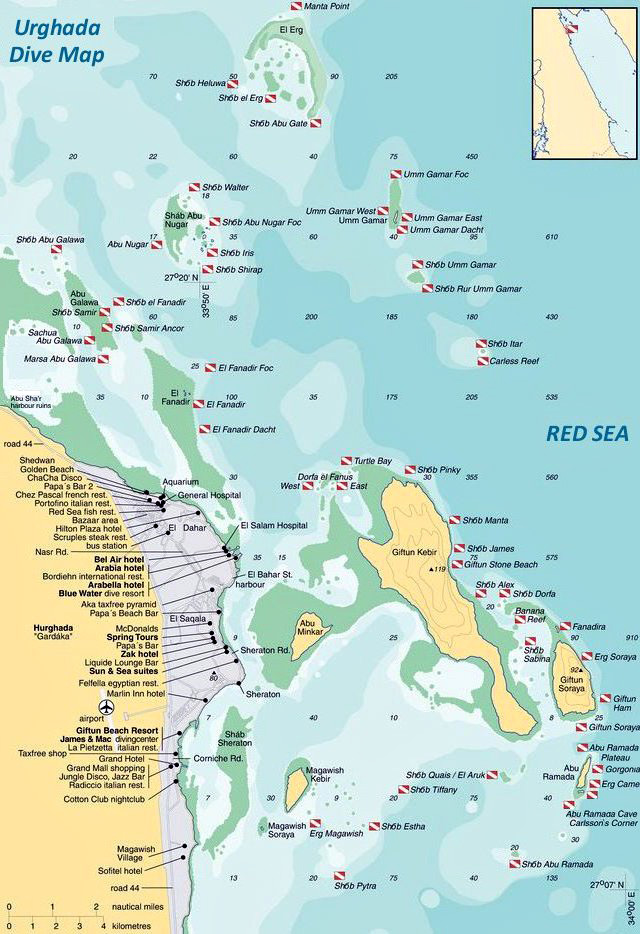 Dive Centre or Liveaboard?
With so many divers flocking to Hurghada, the dive centres have become one-stop-shops offering absolutely everything a diver could ever need – from training courses to liveaboard trips along with accommodation.
Hurghada is also the departure point for many liveaboard experiences for dedicated divers wishing to cram as much diving as is humanly possible into their dream diving vacation.
Travel tips
Feeling inspired and ready to go? Check out our Hurghada travel guide and start planning your next diving trip!