The Gili Islands are well-known for being one of Indonesia's best areas for diving. With around 25 different dive sites offering a variety of underwater scenes, the Gili Islands are well-suited to all divers regardless of their experience level. The warm waters, calm currents and great visibility make this area ideal for beginner divers completing their qualifying dives. The dive sites surrounding the Gili Islands are also world famous for sea turtle sightings and divers from all over the globe will flock to the warm waters of Indonesia to observe these placid creatures in their natural habitat.
The Gili Islands consist of three individual islands which are fairly small when compared with the nearby Lombok which is much larger. The water surrounding these smaller islands is a pleasant 28°C all through the year, making this area of Indonesia ideal for scuba diving holidays The first two of the three islands, Gili Meno and Gili Air, are relatively quiet locations when compared with the bustling party capital of Gili Trawangan. All 25 dive sites are easily reachable from any of the islands and each island offers all the services a tourist would need in terms hotel accommodation, restaurants and entertainment.
Dive Map of the Gili Islands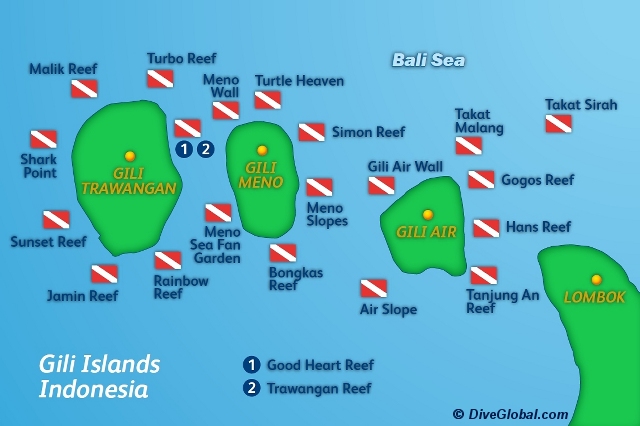 Best Diving Destinations in the Gili Islands
One of the many reasons that diving near the Gili Islands is so popular is that it is available to every level of diver. Even the most experienced diver will continually be amazed by the variation in topography – these sites offer everything from reefs to canyons to healthy and plentiful coral gardens and even intimidating wall dives. Whilst the backdrop of each dive is colourful, varied and impressive, the marine life is equally diverse and remarkable. Sightings of large manta rays and sharks are common, but the locations also offer something for those interested in macro life such as pipefish, sea horses and the elusive frogfish.
One such muck diving site is Hann's reef which is located to the east of the Gili Air island and presents the opportunity to take great underwater images of intriguing marine life such as nudibranchs and scorpionfish. On a larger scale, Shark Point is a collection of underwater canyons frequently visited by a number of shark species such as the leopard shark. Shark Point is also famous for manta ray sightings, particularly in the months of November to May. For advanced divers, Deep Turbo is a deep and daring dive featuring large numbers of garden eels and stingrays. To fully appreciate why the area is known as the sea turtle capital, visit the drift dive site known as Halik, where the turtles tend to be plentiful and unperturbed by the presence of divers.
Lombok Dive Sites
These are descriptions of just a few of the fantastic dive sites located just minutes away.
Shark Point
One of the Gilis' most popular dives. Normally a drift dive and that can be dived at three levels – deep dives, midwater drifts and shallow coral-garden exploration. Bannerfish and moorish idols decorate the reef with their high-contrast black-and-yellow bodies as they swim around the coral formations. There are mantas at the current-swept point, as well as reef sharks and occasional rays, including eagle rays. Most divers end this dive along the upper reef flats before the tip of the point where cuttlefish, blue-spotted stingrays, turtles, chromis, basslets and other colorful reef fish thrive in the shallow water.
Manta Point
This is an easy dive with a fine drift when there is a current. The peak season for mantas is from March to May, but there are sporadic sightings year-round. Visibility at this site is very good, but sometimes nutrients carried into the water by runoff make the mantas more active. This means the lower visibility during the rainy months of November and December can actually bring more mantas. We have seen up to 15 mantas here at one time. Even if you do not see mantas, this is a good site for divers of all abilities. There are lobsters and moray eels in the rocky parts of the reef. Cuttlefish hovering over the corals and flashing their brilliant colors have an amazing camouflage ability – they can even mimic the red algae found along the bottom here.
Malang Reef
This is one of the area's premier dive sites with visibility often 30m or better. The blue water and brilliant white-sand bottom provide a stunning backdrop for this natural seascape with a diversity of species and habitats. Look for whitetip sharks and schools of batfish, groupers and sweetlips. A sloping wall leads to a series of deep reefs on a loaf-shaped reef with bases at 3-40m. There are about 10 of these big, loaf-shaped reefs within a very large area, so you need to do multiple dives over a few days to see everything. The deep canyon of the most northerly site has multiple fans and lots of fish. The overhangs and mini-walls throughout the area have large sponges, an excellent array of large fan corrals, sea whips and soft corals.
Gili Air Slope (Frogfish Reef)
Naturalists and macrophotographers favor this site. The dive can be done along the site's wall, but the real surprises are along the upper reef consisting of a coral garden with a vast abundance of the smaller reef fish in an assortment of colors and shapes. There are all kinds of odd critters, such as leaf fish, stonefish, scorpion fish, nudibranches, morays, rare species of lionfish, flying gurnards, cleaner shrimp, leaf ghost pipefish and mantas. At night, there are crabs, shrimp and lobster. Also, look here for the site's namesake, the frogfish. These anglerfish are very difficult to find because they look like pieces of sponge or coral. A frogfish catches its prey by extending a spine over its head. The spine has a small piece of skin on the end that looks like a worm. When a fish swims by and tries to eat the bait, it's swallowed by the frogfish.
Alex Reef
The Gilis are famous for turtles, and here is where lots of green and hawksbill turtles feeding on sponges and hydroids amid the reeftop coral gardens can be found. Divers are practically guaranteed to see a turtle here. In fact, they might see six turtles on a single dive. Divers can approach the turtles closely to take photos, but please don't touch them because this disturbs their eating, affects their breathing and will make them more wary of other divers. Go over the wall and down a sharp slope that drops to 24m to see whitetip reefsharks, giant clams, garden eels and titan triggerfish. Sea snakes like to swim the wall and look for prey such as small crabs, fish and shellfish. Scorpionfish, clownfish and their anemone host are abundant along the reef's edge. Chromis, basslets and other colorful reef fish are in the shallow waters. The shallow corals are starting to regrow after being damaged by El Nino.
Gili Meno Wall
Do a drift dive along Meno Wall for a good ride. Drop into the channel between Trawangan and Meno and descend to the wall that drops from 6-27 meters. Whitetip sharks sleep in the sand in the channel. Green and hawksbill sea turtles are on the wall's north end. There is also an abundant assortment of invertebrates and nudibranchs. Lionfish, chromis and spotted rays are part of the standard fare.
Getting to the Gili Islands
Although they are hardly comparable in terms of tourist traffic, the Gili Islands are in fact only an hour away from bustling Bali by boat. The nearby island of Lombok has an international airport that connects to a variety of destinations within Indonesia as well as Kuala Lumpur and Singapore, and divers can simply get a boat from Lombok to the dive site of their choosing. Another option that is growing in popularity is that of Senggigi, a resort town to the west of Lombok where many divers choose to base themselves before heading out to the islands for their underwater fix.
When to Visit the Gili Islands
Although diving is certainly possible and popular all throughout the year, especially for novice divers completing their first scuba qualification, the rainy months of December and January do result in reduced visibility and should be avoided if you're aiming for the best possible conditions when diving the Gili Islands.
Where to Stay in the Gili Islands
It is interesting to note that the price of diving at sites in the Gili Islands is fixed across all operators which means that no matter where you stay in the Gili Islands you will pay the same rate for diving services. This adds an element of fairness and ensures service and diving standards remain high.
The largest and most popular island for divers and tourists alike is that of Gili Trawangan. A number of dive shops are located on the island and there is a buzzing nightlife for entertainment when you're not diving. Although Gili Air and Gili Meno are smaller both in terms of size and tourist numbers, these islands still offer a fair number of dive centers and provide the added benefit of being a secluded destination with everything you need for your holiday on your doorstep.
Travel tips
Feeling inspired and raring to go? Check out our Gili Islands travel guide and start planning your next diving trip!