Puerto Galera is a picture-perfect diving holiday destination complete with sandy beaches and light blue waters that offer superb diving. Although it is the most developed and visited destination in the Philippines, Puerto Galera still maintains its local flair despite the many tourists that flock to its shores each year. Cementing itself as a firm favourite amongst divers, Puerto Galera has an abundance of nearby dive sites and just as many dive centres. For this reason, it is known as the diving hub of the Philippines.
A diving hub is no good without some good underwater sights, and Puerto Galera does not disappoint with its 450 species of colourful coral and over 3000 different fish species. With 5 kilometers of certified protected marine area, all life continues to thrive in these waters, which are known for producing heavy currents in the Verde Island channel area. From the large and imposing fish to the small, seemingly insignificant but all-too-amazing critters, each dive in Puerto Galera is a new and exciting experience.
Dive Map of Puerto Galera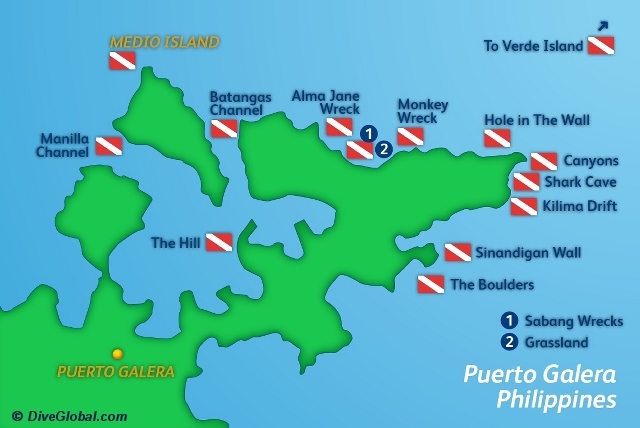 Scuba Diving in Puerto Galera
Diving in Puerto Galera with any frequency is enough to spoil the most jaded of divers. No matter how many times you visit, there is always something new to see. Early in 2001. I made my first visit here while based in Manila on an extended business trip. After a hiatus of several years, I decided to get back into diving again. Easy to reach from Manila, Puerto Galera turned into my weekend dive destination.
Repeat visits encouraged me to take my diving to the next level, so with the encouragement of my dive buddy and fellow Canadian Oliver Guse, we both went for our advanced open water. What was exotic for many became my weekly routine. Alas, all good things must end and it was time to head back to Canada. Sitting back home, enduring a cold Canadian winter, Puerto Galera and her ample charms beckon me again and again.
Separated from Luzon by the deep waters of Verde Island Passage, Puerto Galera (Port of Galleons) is one of the most popular dive destinations in the Philippines. Located on the magnificently rugged island of Mindoro, the beautiful natural harbour provided a safe haven for galleons seeking shelter from typhoons. Prior to the arrival of the Spanish in 1572, Malay, Chinese and Indonesian merchants had been plying these waters as early as the 10th century to trade with the island's original inhabitants. Today the boats are still coming, heavily laden with divers and holidaymakers wishing to experience the area's bountiful attractions.
Strong currents and upwellings flush nutrient-rich waters through the Verde Island Passage, supporting a wealth of biodiversity. Carpeting the seabed is a dense mantle of vibrant corals and marine invertebrates – a paradise for underwater photographers. These rich coastal waters have been protected as a marine sanctuary for a number of years, resulting in prolific reefs teeming with fish.
Best Dive Sites in Puerto Galera
With over 30 dive sites to choose from, there is something to offer even the most discriminating diver. From wrecks to high-voltage drift-dives, most sites are within a 20-minute banca ride from many of the resorts. A bit further afield lays Verde Island, with its stunning wall and abundant fish life. Although the entire area is referred to as Puerto Galera, the bulk of the accommodation is congregated around Sabang Beach, Small La Laguna and Big La Laguna Beach.
The thrilling dive sites to be experienced in Puerto Galera thanks are due thanks to the area's strong currents, impressive visibility and deep blue waters, not to mention the location at the Verde Island passage where an abundance of fish are known to be.
Hole in the Wall
As the name suggests, this site features an enjoyable swim through a short tunnel at manageable depths of between 8 and 18 metres. The dive site is very welcoming to all levels of divers and is a must for budding underwater photographers due to a large variety of colourful underwater life. Puffer fish, parrot fish and frogfish are all common sightings.
Fish Bowl
This deep and rocky stadium-shaped reef offers exceptional views of a number of marine species for advanced divers. Sightings of white tip reef sharks are common, as are tuna, sweetlips, rainbow runners and jacks in the blue water.
Canyons
Known as one of the top dive sites in the area, Canyons is an exhilarating, high speed drift dive experience that sends divers to the depths of three canyons each at 30 metres below the surface. The canyons are beautifully decorated in pink coral and almost entirely covered by large gorgonians, and divers should expect to see marine life of every size and shape including large kingfish and resident harlequin sweetlips. As there are always strong currents at Canyons, the site is not recommended for beginner divers.
Coral Cove
Well known for its magnificent macro life, this sloping reef hosts all sorts of fascinating species. Colourful nudibranchs and fluttering cuttle fish all hang out in the Coral Cove with the likes of frog fish, ribbon eels and pipe fish calling the overhangs of the wall their underwater home.
Best Time to Dive in Puerto Galera, Philippines
Although diving is possible throughout the year, the best diving is usually between the months of April and September.
During these months the water is warm and pleasant with a temperature of 29°C.
August to November are the rainy months in the Philippines but this does not mean that diving should be avoided entirely as there are a number of sheltered dive spots around.
Divers intending to do deeper dives from December onwards should be aware of the drop in water temperature during this time – an average of 22°C is the norm during this time and thermoclines are common on deeper dives.
Also the diving is year round, although bad weather in the rainy season from May-September may hamper bancas from making the crossing to Batangas. Still, there are far worse places one can be stranded!
Dive Centers
More than 20 different dive shops in the area cater to divers of many different nationalities. The diving is relatively inexpensive by Asian standards, making Puerto Galera an ideal place for beginners to be certified. Europeans, Australians and Americans tend to dominate the dive sites, but in recent years they have been joined by an increasing influx of arrivals from around Asia, especially South Korea, Taiwan and Hong Kong.
Other Activities
If you want a break from diving (heaven forbid), there are a host of other activities to choose from. With flourishing coral gardens and abundant marine life flanking the shoreline, exceptional snorkelling can be done right from the beaches.
Water sports such as kayaking, wind surfing, and sailing are first-rate, with equipment readily available for hire.
Many places of interest are easily accessible.
Definitely worth a visit is Tamaraw Falls. Plunging an impressive 129m (423ft), the falls are actually two separate cascades that combine into one big one. The falls can be reached in several different ways. A number of tours from Sabang include the falls in their itineraries. The falls are located in Barangay Villaflor, which is a two-hour jeepney ride from Puerto Galera on the way to Calapan. You can also hire your own jeepney, but prepare to bargain hard!
Also worth visiting is the Ponderosa Golf and Country Club. Even if you're not a golfer, it's worth making the journey just for the view. At an elevation of 600m (1970ft) above sea level, spectacular views can be had of the entire area. Jeepneys can be hired for the trip, although a better alternative is to hire a motorbike, which can be easily arranged in Sabang or Puerto Galera. The road up is extremely bumpy; so make sure you have a bathroom break before making the trip!
Excursions to other attractions, such as native villages, jungle trekking or even climbing nearby Mt. Malisimbo, can all be arranged by any of the travel agencies in Sabang. Signs out front post the day's activities.
Getting to Puerto Galera, Philippines
The capital of the Philippines, Manila, is a densely populated city on the island of Luzon and offers frequent travel options to Puerto Galera. The total journey time will be about 5 hours and consists of a morning bus ride from Manila to Batangas Pier and then a ferry ride to Puerto Galera. Once in Puerto Galera, which is about 130 kilometers south of Manila, transportation to the numerous dive resorts is done by indigenous 'Banca' boat, a narrow wooden boat with booms made from local thorn trees. If you're feeling flush, private transfers from Manila are possible via road or sea plane.
Batangas Pier from Manila
There are a number of different ways to get to Batangas Pier from Manila.
Taxi
The most expensive option is by taxi, which can end up costing around 2000 pesos or more each way.
Bus
More economical are the commercial buses of BLTB, Jam and Tritran. Bus terminals can be found in Cubao, and in Buendia in Pasay City. The earliest bus usually leaves at 6am and every hour on the hour. Schedules of these buses are quite erratic however and are quite dependent on the volume of passengers. This can be a problem if you have to connect with a specific ferry. Fares range from Php80 to 100 (US$1.65 to US$2) and depend on whether the bus is regular or air-con.
Resort Transfers
Most resorts can arrange transfers from Manila if asked in advance and many visitors bypass staying in Manila altogether and get picked up directly at the airport.
Ferry from Batangas City Pier

At the Batangas City Pier, numerous ferries depart for Puerto Galera or Sabang Beach. The widest selection of departures is in the morning, so it's best to arrive at the pier early. Weekends necessitate a very early departure (5:30-6:00am) to avoid the horrendous traffic heading out of the city.
Other Options
If you don't want to pay the high cost of a taxi, but the thought of taking a local bus (with the endless violent action movies on the video) isn't appealing, there is another option. Swagman's Hotel in Ermita run a daily shuttle to Batangas Pier that leaves at 8:00am. The trip takes around two hours on weekdays and arrives at the pier in time to connect with ferries to Puerto Galera and Sabang.
Where to Stay in Puerto Galera, Philippines
When it comes to diving, divers can choose to book their dives independently with any one of the numerous dive operators, or stay at one of the dive resorts. Either option is fairly hassle-free due to the fact that most people in the Philippines speak good English and locals are always eager to assist tourists.
A few dive centres focus specifically on one or more areas such as macro dive sites, whereas others offer night dives, additional training and certifications and guided boat dives.
Staying at a diving resort offers the added benefit of having a number of enjoyable facilities at your disposal such as swimming pools and on-site bars. With the dive sites easily accessible from the resort and organized from within the resort, all you need to do is sit back, relax and enjoy your dives. A number of premium dive resort options are available in the Sabang beach area. Of course liveaboards are an even more convenient option if you want to get the most out of your diving time in the Philippines.
Travel tips
Feeling inspired and raring to go? Check out our Puerto Galera travel guide and start planning your next diving trip!