The motto of the Turks and Caicos Islands is "Beautiful by Nature" and it's difficult to find an argument against such a statement. Unbelievable beauty awaits every visitor and can be found both above and below the water's surface on these islands. The islands are considered British Overseas Territory and are separated by the Turks Island Channel. On one side of this passage are the larger Caicos islands, and on the other side are the Turks Islands, making 40 islands and caves in total. With only 8 of these islands being inhabited, the area certainly gives a sense of seclusion and exclusivity with an overwhelming sense of natural beauty everywhere you look.
Diving in this region is nothing short of spectacular, with dramatic walls teaming with marine life of all varieties as well as plenty of large pelagic life.  With interesting underwater structures to explore and sharks, turtles and macro life to keep you company, the Turks and Caicos Islands have plenty to offer divers of all levels.
Best Diving Destinations in the Turks and Caicos Islands
For wall diving enthusiasts, diving around the Turks and Caicos Islands is difficult to beat! Conditions are usually ideal for wall diving, with calm seas and excellent visibility. The year-round warm waters require little more than a shorty to remain comfortable, although some divers opt for a thin 3mm wetsuit when venturing deeper. There are many dive sites surrounding the islands, with great walls to explore. Sharks, turtles and rays can often be seen in the blue waters, whilst smaller marine life can be found on the wall amongst colourful coral life, gorgonian sea fans and sea sponges of all shapes and colours.
The diving can be considered in two separate areas, the diving on the Turk islands and the diving on the Caicos islands.
The Turk Islands
The Turk Islands offer the ability to base yourself on either Grand Turk or Salt Cay, and still dive any of the dive sites. The best diving for the Turk islands is the renowned wall diving to be had on the wall just off shore from Grand Turk. The wall is only 300 meters from shore and starts at an average depth of only 10 meters. The wall is on the leeward side of the island and conditions are usually calm with excellent visibility. The marine life is extremely lush on these sites and typically you can see manta rays, eagle rays, queen trigger fish, hawksbill turtles, Caribbean Piranha Yellow tail snapper, plus soft and hard corals and a variety of sponges.
The Caicos Islands
The Caicos Islands has most of its diving currently concentrated around Provo (Providenciales) and West Caicos islands. West Caicos island is a 10 mile boat ride from Provo and well worth it. Both islands feature dramatic wall dives with some caves, holes and swim throughs all adding variety to the diving. The typical marine life to be found includes pink hog fish, porcupine fish, nurse sharks, giant spiders crabs, eagle rays, manta rays, and giant elephant ear sponges (elephant ear canyon on west Caicos). Also available is some wreck diving on the 80 foot long cargo freighter SouthWind and on a second 110 foot long freighter sunk by local dive operators.
Much of Turks & Caicos Islands has not been explored and many new sites are still opening up.
Providenciales
The island known as Providenciales is home to a number of fantastic dive spots and this area off the North West Point is certainly worth a visit. The Dome is one such dive site that originally served as the set for a French reality TV game show. Although the steel structure has since broken, it now serves as an artificial reef covered in cleaning shrimp, clams, nudibranchs, Christmas tree worms, blennies and plenty of other macro species.  Turtles, white-tip reef sharks, resident barracuda and a variety of angelfish can all be seen at this site, which also makes for a great night dive opportunity.
Also in Providenciales is a site known as the Black Coral Forest where divers can discover large plate corals and a number of pelagic species around the deep ledges and swim-throughs. The wall dive starts off with a sandy patch around 13 metres and then drops dramatically to over 90 metres. The bushes of black coral are a unique aspect of this area and are certainly worth a visit.
To the east of Providenciales is Grand Turk, another great area for wall diving. Both divers and manta rays have been known to flock to the dive site known as Tunnels, where an arch of corals has created  fantastic swim-throughs and the lighting is ideal for underwater photo opportunities.
A regular favourite amongst divers is Rock Garden Interlude on West Caicos. Starting out with a sandy bottom at 12 metres, divers can begin the dive by seeing stingrays and garden eels and end the dive spotting a friendly resident Nassau Grouper. The sheer wall adds a dramatic element to the dive as it is almost entirely concealed behind colourful sponges and magnificent corals. For more sting ray sightings as well as barracuda and grey reef sharks, Gullies is a top choice for divers already in the area.
Although French Cay is considered an uninhabited island, this small sandy patch is actually home to an unbelievable variety of bird life, not to mention plenty of great dive spots too. Rock N Roll boasts larger-than-life barrel sponges and impressive pillar coral, while nurse sharks add that extra bit of excitement to the dive. Double D is so named for the two large coral mounds which are in pristine condition and welcome a variety of fish life including trumpetfish and angelfish.
Map of the Turks and Caicos Islands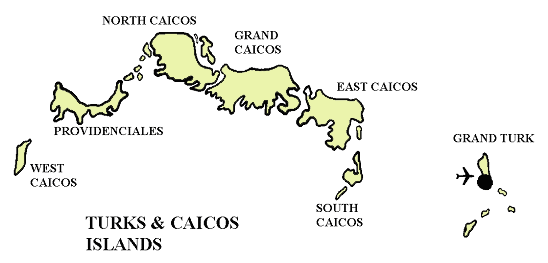 Getting to the Turks and Caicos Islands
Easily accessible from the eastern coast of the US and many other US cities, regular flights depart Miami for the island of Providenciales which is home to an international airport. Internal flights to Grand Turk are also easily arranged from here. The Bahamas and other Caribbean nations are also nearby. The islands make use of the US Dollar and English is widely understood and spoken by the locals, which makes arranging transport and dives that much easier for English-speaking visitors. The locals also speak Spanish and Turks and Caicos Islander Creole. A visitor visa is not usually required but as always it is best to research the current immigration laws before booking a trip.
Where to Stay in the Turks and Caicos Islands
Although it is possible to reach the many dive sites by boat, the best way to experience all that these magnificent islands have to offer is by liveaboard. Two major companies operate weeklong liveaboard trips and divers are spoilt with up to 5 dives a day including night dives. Most of the locations visited via liveaboard are around the Caicos Islands, but special itineraries will offer trips to Grand Turk.
If luxury accommodation on-board a liveaboard is not to your taste, a number of resorts and dive shops are available on the shore which will gladly help to arrange dives for your group or help to create diver-specific packages. It is also possible to start or further your diving qualification with some of these shore-based dive shops. Renting diving equipment is a simple process, but divers should take note that many divers opt for nitrox when doing multiple dives in order to get maximum bottom time.
When to Visit the Turks and Caicos Islands
The islands are blessed with pleasant weather throughout most of the year, with the only exception being hurricane season in the fall months. Aside from these big storms, visitors can expect to experience long days filled with sunshine and calm water conditions. Water temperatures will not usually drop below 25°C and tend to range between 25-29°C. During the summer, the air temperature is very warm at 29-32°C and the mild winter months are ideal for those needing a getaway from colder places, as even in winter the air temperature rarely drops below 26°C. The winter months can bring with them relatively strong winds, but these winds also bring an abundance of humpback whales on their way from the cold North Atlantic to the warm waters of the Caribbean. The Turks and Caicos islands boast unbelievable year-round diving with visibility of over 30 metres in some cases, making these islands well worth a visit for divers of all abilities.
Turks and Caicos Islands Brief Facts
The Turks and Caicos Islands lie 575 miles southeast of Miami and sit on top of two limestone plateaus separated by the Turk Island Passage (7000ft deep). On one plateau sits the Turk Islands consisting of one main island and 10 cays and on the other plateau sits the Caicos Islands consisting of 6 main islands and 30 cays. Turks & Caicos islands are a British colony, and the official language is English and the US dollar is the main currency used. For shore time activities, sailing excursions, windsurfing, air charters, and island hoping all add variety to these tropical islands.