Sipadan is constantly rated in the top 10 dive sites worldwide and many argue its number 1, everyone who is lucky enough to dive in the area wants to come back to experience it again, with its beautiful crisp clear blue waters and spectacular underwater wildlife it's no wonder. One of the reason why Sipadan diving has become so popular in the past few decades was largely due to the famous French adventurer Jacques Cousteau who decided to make a documentary based on footage taken while scuba diving in the area.
Tens of thousands of people every year have flocked to the area and things were getting out of control but since the year 2000 new limitations have been imposed on Sipadan island by the Malaysian government in order to help protect the ecosystem which means only 120 dive permits are given every day on a first come first served basis. Other restrictions means no one is allowed to stay on the island itself as it is now a wildlife and marine life sanctuary, so people mainly stay on the two closest islands on Mabul and Kapalai.
Sipadan Island Diving
There are many things that Sipadan is world renowned for, one of which is the extraordinary diving conditions that it offers. Apart from its 12 special diving spots, the island provides you with trained instructors and top quality equipment, everything you need in order to dive safely in the clear waters of the ocean. Even more, the spectacular view of underwater life will make Sipadan Island diving feel like the adventure of a lifetime.
Dive Map of Sipadan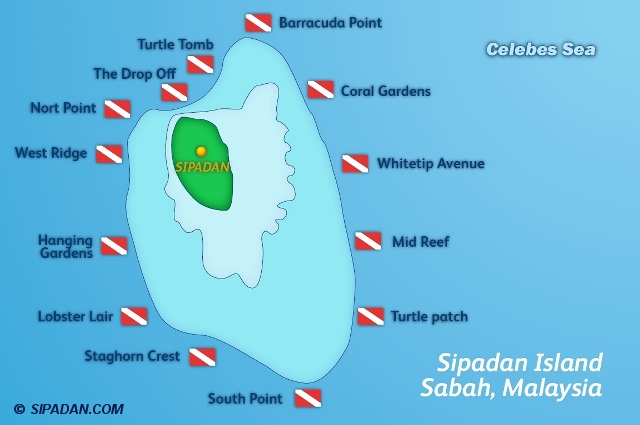 Sipadan Diving Vacation
Feel free to post a question below about anything you wish and we will answer you as soon as possible. We are dedicated to making your diving vacation as pleasurable as possible, we will give you free unbiased advice on the best package to suit your needs as well as the cheapest prices. We are always on hand to help answer your questions and tailor a package for you. We have also listed all the favorite resorts in the travel guide.
Underwater Pictures of Sipadan
Travel tips
Feeling inspired and raring to go? Check out our Sipadan travel guide and start planning your next diving trip!