"Layang Layang" is one of the coral islands which form a part of "The Spratley's", which is a group of 600 reefs, islands and shoal. This amazing island is located 300 kilometers from the coast of Sabah. Together the 13 connected coral reef islands are just 14 square kilometers, but the waters have a depth of 2,000, nurturing a rich marine life. All forms of diving are done from the lone resort located in this artificial island. Sub-surface you can expect to find, big pelagics, sheer walls and sharks as well as a central lagoon consisting to smaller marine life.
Diving at Layang Layang Island
Pulau Layang Layang is most famous for its remarkable scuba diving spots. Here you will have the chance to dive into clear, unpolluted water and see flourishing gorgonian forests of colorful sea fans, corals, barrel sponges, giant clams and various marine creatures, a very common sighting being the hammerhead shark. Other species you might spot include turtles, sea horses, large schools of jackfish, parrot fish and barracudas, pipe fish, cuttle fish, leopard sharks, white tip sharks and sting rays.
Layang Layang is also filled with beautiful man size gorgonians in crystal clear waters. Most are found below a depth of 40 feet. The eastern part is particularly rich in gorgonians and are more tightly packed and smaller in size. The larger ones are found deeper down and tend to stand by themselves filtering the food from the gentle currents.
If you are not yet a diver, the Layang Layang PADI diving centre offers intensive courses.
Whether you are an experienced diver or only just a beginner, in Layang Layang you will find skilled and friendly instructors who will teach you the basics of scuba diving and marine zoology, and assist you whenever during your dives.
Dive Map of Layang Layang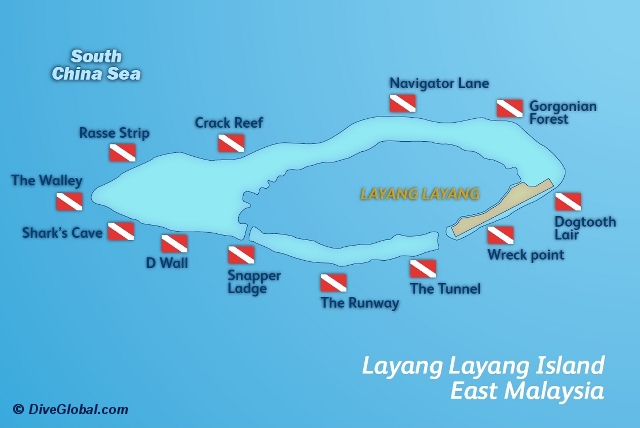 Travel tips
Feeling inspired and raring to go? Check out our Layang Layang travel guide and start planning your next diving trip!