Over the last few years, Coron has become renowned for its excellent wreck diving. With more then 12 WWII wrecks around Coron & Busuanga Island, most of them from one to two hours from Coron, every day is a special day amidst the beautiful scenery of Coron and Busuanga Island.
Most of the wrecks are lying in diveable depths. The average depth is between 25 and 30 meters.
Dive Map of Coron, Palawan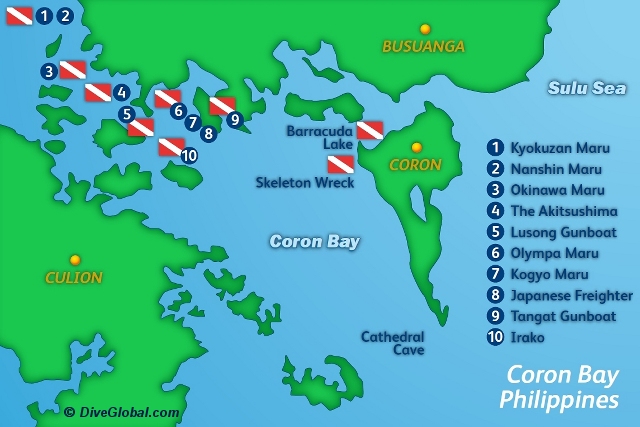 With the introduction of Nitrox & Technical Diving, Coron attracts more and more divers wanting experience Nitrox diving on the wrecks. Nitrox allows divers to enjoy extended bottom times. If you are interested in Nitrox or Technical Diving, Coron is an amazing place to learn.
Wreck site
Type

Approx. Length

Max. depth/average

MOROZAN MARU
OLYMPIA MARU
KOGYO MARU
IRAKO
AKITSUSHIMA
TAEE MARU
NANSHIN MARU
KYOKUZAN MARU
Freighter
Freighter
Freighter
Refrigeration/provision
Flying boat tender
Tanker
Aux. oiler
Freighter

120 m
100 m
140 m
160 m
180 m
200 m
40 m
160 m

32 / 24 m
26 / 18 m
34 / 26 m
42 / 30 m
37 / 28 m
26 / 18 m
32 / 25 m
43 / 27 m